October 28, 2011 -
Matt Bowen
My advice to Bears' young safeties: 'play deep'
The Bears come off the bye next week with DeSean Jackson and the Eagles on the schedule. The week after that? Calvin Johnson and the Lions come to Soldier Field.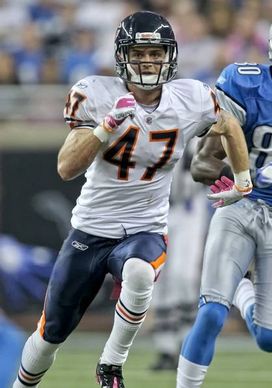 ICONWorking vs. a rookie safety like the Bears' Conte? Test him with the deep ball.
Two straight weeks of legit deep ball speed vs. the Bears' young safeties in Major Wright and Chris Conte.
You think they will see the vertical game early?
Exactly what I would do from the perspective of an offensive play caller. Challenge the top of Cover 2, put stress on the safeties and look to get an explosive play within the first 3 snaps of the game.
Test these young safeties and see if they can handle the 8 (post), 7 (corner) and double-move at the top of the route stem.
I understand the decision from Lovie Smith to release veteran Chris Harris and go with his young talent. More speed and athletic ability with Wright and Conte on the field. Get your draft picks in the game plan. That's the NFL way.
However, what comes with that is inexperience in route recognition, understanding formation alignments, stems, WR splits, etc. And all it takes is for one of these young safeties to lead with a false step (or a poor read) for the top to be blown off this defense.
The Bears have shown more pressure in recent week (think zone blitz schemes) and have also played some Cover 1 (man-free). But when this defense needs a stop, or lines up in a crucial situation, they will lean on the Tampa 2 scheme. And safety play is crucial when you have to defend the vertical passing game.
I do believe both Wright and Conte can play—and produce—in this scheme. There is talent there. And when the Bears gets back to practice early next week, both of these safeties need to get in the film room, start to get a feel for Andy Reid's offense and prepare to be tested vs. the Eagles.
Play with a little more depth in their initial alignment and get ready—because that deep ball is coming. And if you don't stop it vs. Philly, it will continue with Calvin Johnson up next.
Follow me on Twitter: MattBowen41