July 25, 2012 -
Matt Bowen
My training camp advice for rookies
This past weekend in the Chicago Tribune, I talked about the rookie dynamic of training camp. A major transition for all first-year pros as they report for practice and prep to compete daily vs. veteran talent. Today, let's look at some rookie tips to surviving camp and putting yourself in the best position to make it through final cuts.
Here's my advice for rookies as they report for camp…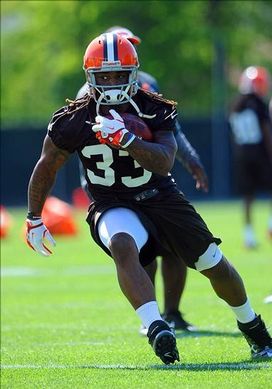 The competition level is going to rise for Trent Richardson and the rest of the rookie draft class during training camp.
1. Use the cold tub and stretch: Sounds too simple, right? Sure, but you would be surprised at how many rooks fail to understand the daily maintenance your body needs in the NFL. There is a reason the vets jump into cold tubs right after practice and go through detailed stretching routines throughout the day. You are going to be sore, tired and sick during camp. Take time out of your day to do the little things that prevent injuries and keep your body in top condition. Because the competition level rises during camp when jobs are on the line.
2. Correct your mistakes: If you show up to meetings late at night without a notebook and a pencil, don't even come in the door. Write down everything the coach says during meetings and get something out of the film. Every rookie is going to make (multiple) mistakes. I understand that. However, the coaching staff is looking for those players that can correct their mistakes and show some signs of development. And if you continue to make the same mistakes (either technique or scheme related), you will have a hard time earning extra reps and ultimately making the squad. As one pro scout told me: "The arrow always has to be pointing up." Translation: show signs of improvement every day.
3. Use your "free time" wisely: Under the new CBA, two-a-days are a thing of the past (as is that quick one-hour nap between practices). However, as a rookie your "free time" is still crucial. Make sure you get rest, study your playbook and try to get some more time in the film room. When the coach throws the team a bone and gives you the night off, make the right decisions. Yes, the vets may head out and grab a couple of beers. They have earned that. But I would advise rookies to use any amount of free time as a way to improve their chances of making the team. Rest, recover and get in your book. That's the way to go.
4. Get treatment in the training room: Take care of your injuries. Have a hamstring strain or a shoulder issue? Go get treatment and make sure you are on the field. The last thing you can do as a rookie is miss practice time. You become a ghost, because you can't be evaluated when you aren't on the field. You will have to play through bump and bruises if you want to make an NFL team, but don't discount the impact treatment will have on your body. Get ice, stim, etc. to ensure you are ready to practice every single day.
5. Take advantage of reps: This applies to every draft pick—regardless of where you were selected. Reps are crucial for the top picks such as Andrew Luck and RGIII as they prep for the regular season, but don't forget about the late round guys that need to make an impression on the coaching staff. Its all about opportunity during training camp. And a rookie that is buried on the depth chart to start camp might find himself running with the first team in the middle of August due to injuries. You never know when you are going to be put in a position to showcase your skill set, so prepare every day to play your best football. Depth charts change during training camp and those players that take advantage of the reps are the ones you will see on the opening day roster.
Follow me on Twitter: @MattBowen41