February 29, 2012 -
Matt Bowen
NFL Combine: 5 prospects to do your homework on
Once the NFL Combine wraps up there is always some buzz after the workouts, position drills, 40 times, etc. And this year is no different after the numbers posted in Indianapolis. However, despite some of the true athletic ability (and size) we saw on the field this week, here are five names that scouts need to do some more homework on before the Pro Day circuit starts up.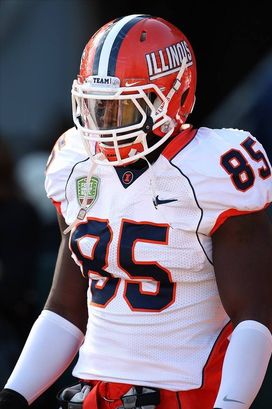 ICONDoes Mercilus' 4.63 speed consistently show up on tape?
Whitney Mercilus, DE, Illinois: Mercilus came into the Combine after posting 16 sacks this past season at Illinois. Wasn't perfect in positional drills, but displayed enough athletic ability to align as a 4-3 DE or drop into coverage as a 3-4 backer. But what you are looking for is that 4.63 speed he posted in Indy that will give you a first-round edge rusher in both fronts. Plenty of discussion that Mercilus is a one-year wonder…let the tape be the judge of that.
Dontari Poe, DT, Memphis: The big man from Memphis was the talk of the Combine after he posted a 4.93 40 at just under 350-pounds. You just don't see that from a player his size. Now, go back to the film room and find out if he has a consistent burst off the line of scrimmage, is physical on contact and sheds blockers to make enough plays that warrants a solid first round grade. Don't allow his workout alone to be the deciding factor.
Stephen Hill, WR, Georgia Tech: I talked about Hill earlier in the week because any WR with his size (6-4, 215) and speed (4.36 40) is going to improve their draft stock. This is what every NFL team is looking for outside of the numbers because it creates matchup issues for the defense and shows up in situational football: 3rd downs, red zone, etc. However, is Hill developmentally ready to run the NFL route tree and can he be considered a top target as a rookie?
Dwight Bentley, CB, Louisiana-Lafayette: I saw Bentley down at the Senior Bowl in Mobile throughout the week of practice and I loved the way he competed in drills. And on Tuesday, the CB ran a 4.43 40. Bentley isn't a top tier prospect at the position and he doesn't have great size (5-10, 182), but this is still a player I think we need to keep an eye on throughout the draft process. Go back, watch the tape and see if Bentley has the overall skill set to make an impact as a rookie in the secondary.
Lamar Miller, RB, Miami: Can the former Hurricane be the second RB to come off the board after Alabama's Trent Richardson? All he did in Indy was help his case by running a 4.40 40. As the NFP's Wes Bunting pointed out, Miller would be a fit in a zone-blocking scheme and now scouts have to decide where he stacks up vs. Boise State's Doug Martin and Virginia Tech's David Wilson.
Want to learn how to study the NFL Draft? Click here to sign up for the NFP's online scouting class.
Follow me on Twitter: @MattBowen41