February 20, 2012 -
Matt Bowen
NFL Combine: All eyes on Justin Blackmon
According to Albert Breer of NFL.com, Justin Blackmon is expected to work out this week at the NFL Combine in Indianapolis—and I love the move.
Even as a top prospect, show the entire league that you are coming to Indy to compete. That's all you have to do. Put your hand on the line for the 40-yard dash, work through the position drills and showcase your talents.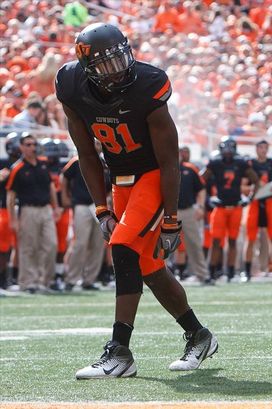 ICONBlackmon's skill set will translate to the NFL, but there are some questions on his top end speed as a potential Top 5 pick.
Exactly what the Combine is designed for.
It isn't easy, and as I wrote yesterday in the Chicago Tribune, the Combine is a grind on all of these prospects. Tough to produce your best times with the amount of stress and adversity the NFL puts you through during your stay in Indianapolis.
Another reason to respect the WR's decision to come to Indy to workout in front of the entire league.
With Blackmon, we know he can play. You could see that this past season with his production at Oklahoma State. The WR is excellent after the catch, can win inside of the numbers (consistently) and beat a defender's initial leverage at the line of scrimmage.
A natural playmaker when he has the football in his hands.
I have no doubts that his game will translate to the NFL when we discuss the short to intermediate route tree. Plus, with the amount of empty looks and spread sets we are seeing on Sundays, Blackmon could align in multiple pre-snap positions to gain a matchup advantage.
However, what about the vertical passing game?
A question that was brought up by the NFP's Dan Pompei on Sunday. Agree with it or not, the 40-yard dash plays a role in the overall draft grade of a WR. And that time becomes crucial when talking about a potential Top 5 pick—one that could go as high as No.2 overall.
If Blackmon runs in the 4.5s (or below), this won't be as issue. However, as Pompei pointed out, post a time in the 4.6s and there will be questions.
What scouts are looking for with that stopwatch is the ability of a WR to separate down the field vs. NFL talent in the secondary. That's it. This has nothing to do with running clean routes, coming out of your cuts with speed or catching the football.
However, as we get closer to the Combine officially kicking off in Indianapolis later this week, I expect Blackmon's workout to generate some serious buzz all based on his speed. And depending on what the OSU product posts in the 40, we could once again discuss game tape vs. combine numbers. A good debate when it comes to one of the top prospects in the draft.
As I said above, I respect Blackmon's decision to workout in Indy. No need to hide from the NFL. Now, let's see what he does…
Follow me on Twitter: @MattBowen41