February 25, 2012 -
Matt Bowen
NFL Combine: Safeties in demand
INDIANAPOLIS—Talking with league personnel here at the NFL Combine, the safety position is now considered a top priority in the draft. A "premium position" vs. NFL offenses. Think about it: what do we see from offensive game plans on Sundays? Empty sets, multiple alignments and the overall impact of the TE position. Spread the field and go to work on the secondary.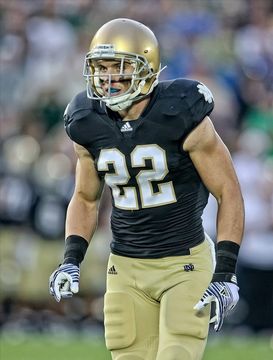 ICONNotre Dame's Harrison Smith.
Looking at this from a draft perspective, here are the NFP's top five players at the safety position:
1. Mark Barron, Alabama
2. George Iloka, Boise State
3. Markelle Martin, Oklahoma State
4. Harrison Smith, Notre Dame
5. Brandon Taylor, LSU
The way I see it, you need two free safeties as part of your base defensive package to counter offensive schemes. Two players that can align in Cover 2, work out of the middle of the field and win in one-on-one situations. And that includes the skill set to play man-coverage (both press and off-man) vs. a Rob Gronkowski or Jimmy Graham.
Techniques that I talked about when breaking down how to grade the safety position based on film study. The same techniques that apply to Lovie Smith' Cover 2 defense or the pressure packages with Rex Ryan and the Jets.
Does that mean there is a run on safeties towards the end of the first round? I do expect Barron to come off the board, and based off of what I am hearing in Indy, he might not be the only safety to be selected in the first round.
Follow me on Twitter: @MattBowen41