March 21, 2012 -
Matt Bowen
NFL Draft: Claiborne is the smart play for Vikings
Click here to read the new NFP Mock Draft.
The Vikings are in a prime spot when it comes to the NFL Draft. Think about it: with Andrew Luck and Robert Griffin III expected to come off the board with the first two picks next month, Minnesota has multiple options when they are on the clock at No.3.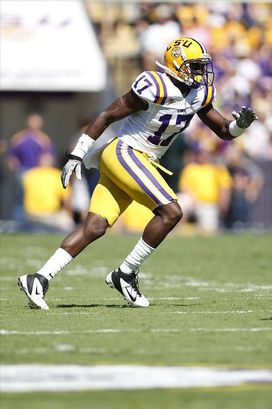 ICONLSU CB Morris Claiborne.
And looking at this Vikings' roster, there are obvious needs. Minnesota can choose to upgrade the O-Line, add a playmaker outside the numbers at the WR position or address a secondary I thought was exposed in the 2011 season. Prospects such as USC OT Matt Kalil, Oklahoma State WR Justin Blackmon or LSU CB Morris Claiborne.
Take your pick if you are the Vikings, because you will get real talent picking No.3 overall. That's not an issue here.
My opinion? Run up to the podium on the opening night of the draft and select Claiborne. A premier prospect that can develop into a top tier player at the position in a league that loves to throw the football.
I understand this is a deep class at the CB position. Miss out on Claiborne and there are plenty of prospects the Vikings could target with early to mid round grades. However, with Claiborne, we are talking about a talent that is the No.2 overall player on the NFP Big Board. Size, length and the ability (plus technique) to play both press and off-man coverage.
And when it comes to scheme and the Xs and Os of the Vikings defensive playbook, it doesn't matter how much Tampa 2 (or Cover 3) they play on Sundays. Every secondary still has to line up, play man coverage, take away inside breaking routes and shut down offensive playmakers in crucial game situations. But you need legit talent at CB to get that done.
No question the Vikings will land an upgrade in the first round. There is enough talent at the top of this draft to find a first day starter that can be developed in Minnesota. But when I look at the QBs and the talent of the WRs in the NFC North, drafting Claiborne seems like the smart play from my perspective.
Want to learn how to study the NFL Draft? Click here to sign up for the NFP's online scouting class.
Follow me on Twitter: @MattBowen41