April 11, 2012 -
Matt Bowen
NFL Draft: Five prospects I would love to coach
One way I look at draft prospects is from a coaching perspective. Take the skill set and develop it on the field in a way that will lead to production at the NFL level. And looking at this year's class, here are five of the top prospects I would love to coach this summer in camp.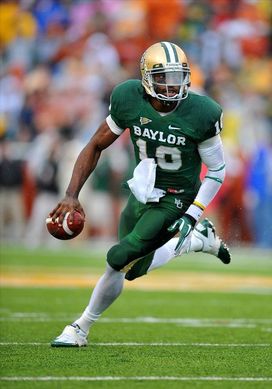 ICONGriffin can be a game changer if the NFL if the coaching allows him to develop his unique skill set.
1. Robert Griffin III, QB, Baylor: Unique talent that applies to the game plan and the practice field. You can't put RGIII "in a box" as one pro scout told me recently. That's not good enough. Open up the offense; tailor your game plan around his skill set and work to develop that talent on the field. With this much ability at the QB position, it will be a challenge to break down his technique and build it back up to a level that wins in the pro game. There isn't a player like Griffin in the entire draft. A game changer—if he is coached the right way.
2. Dre Kirkpatrick, CB, Alabama: There is some opinion out there that Kirkpatrick should move to the safety position. But after talking with experienced NFL scouts, I don't see it. Look at the length and size Kirkpatrick brings to your secondary. That's what you want in your CBs. Think of him rolled up in Cover 2 or in a press-alignment in blitz-man. He needs work and must build up his upper body strength. But if you can develop his footwork, the Alabama product can make a living working over WRs at the line of scrimmage. I would get him in the weight room all offseason and consistently condition his legs throughout the summer in position specific work.
3. Luke Kuechly, LB, Boston College: The LB is going to find the ball, be sound in his run/pass keys and come downhill in the run game. The next step is to develop his ability to produce in pressure schemes, make plays in Cover 2 running the inside vertical seam and become a three-down player that never comes off the field. I would work with him on his hips, lateral movement, plus his plant and drive. Coach him like a safety out on the field and build up a LB that can attack the run front and produce in coverage.
4. Stephen Hill, WR, Georgia Tech: The WR is raw—real raw. But you can't coach vertical speed (4.36 40) and size (6-4). I don't care about rookie WRs and their route running ability on tape—because they all must improve if they want to catch the ball on Sundays. Hill needs to be taught the route tree from the release, through the stem and the break (12-15 yards outside of the 3-step game). The offense he played in at Georgia Tech (triple option) won't prepare him for NFL competition in the passing game, but there is so much ability here that coaching him would be rewarding every day.
5. Quinton Coples, DE, UNC: Watching Coples on the field at the Senior Bowl practices, there is no question he has skills. Speed and strength off the edge. But he's not playing in the ACC anymore. For the UNC product to get to the QB on Sundays, you have to coach multiple pass rush moves and develop his hands at the point of attack. The talk that he will take plays off? Don't allow it—and that starts in practice. I'm thinking of a practice structure that is similar to Lovie Smith's in Chicago. His defensive players run to the ball and pursue on every play in every drill—or they don't see the field. Make him work and play at NFL speed. Force him to be accountable. Plenty of talent here, and if he lands in the right system he should be an impact player as a rookie.
Click here to see the NFP Big Board
Follow me on Twitter: @MattBowen41