March 30, 2012 -
Matt Bowen
NFL Draft: Is Alshon Jeffery a 1st round talent?
Alshon Jeffery created some buzz this week after his pro day on campus at South Carolina. With scouts looking for some answers on his speed, the WR posted a low 4.5 40-yard dash, along with a vertical of 36.5. Solid numbers for a player with his size (6-4, 213). However, where does that put Jeffery when compared to the top wide outs in the draft?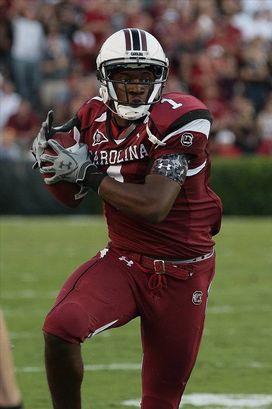 ICONSouth Carolina WR Alshon Jeffery.
Here's what an NFL scout told me on Jeffery last night:
- 4.51 40-yard dash time (stopwatch time)
- Good enough route runner
- Big body
- Can high point the ball
- Ran simple concepts at South Carolina
- Had to drop weight for workouts. Red flag?
- Will he keep his weight down in the NFL?
- Comparable to James Hardy coming out of Indiana (Drafted by Buffalo)
- More "bust" than hit
- Will go in the 2nd round
I can see why scouts and teams will take a hard look at Jeffery. The size/speed combo at the position is crucial in NFL offenses. Think red zone football and third downs. You want a WR that can run the 3-step game, work the 9 (fade) route outside of the numbers and convert the inside vertical seam when aligned as the No.2. Plus, if Jeffery can transition quickly to the pro game and build his technique vs. press-coverage, there is potential here.
My major concern: Is Jeffery limited? Will you get more out of the WR than the fade, dig and slant at the pro level? And will he consistently separate and stack on top of a NFL DBs down the field?
There is no question Jeffery has some play making skills and the ability to go get the football (plus his size will create leverage). But is he in the class of Justin Blackmon, Michael Floyd, Kendall Wright and Stephen Hill? That's a tough sell for me.
Click here to see the NFP Big Board
Follow me on Twitter: @MattBowen41