April 04, 2012 -
Matt Bowen
NFL Draft: Is Floyd now a Top 10 prospect?
Looking at the new NFP Mock Draft, are you surprised to see Michael Floyd going No.10 overall to the Bills? A prospect that has the measurables and speed NFL clubs want to target at the WR position.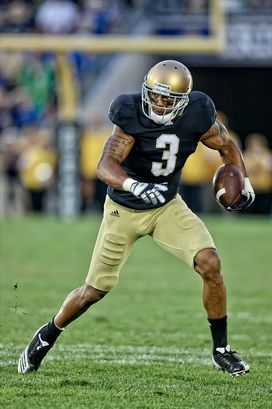 ICONFloyd had another solid workout at the Notre Dame pro day.
Go back to the NFL combine where Floyd's stock started to rise. There were some questions about his speed before he ran for pro scouts. But after posting a 4.47 40 in Indy (at 6-3, 220), and following that up with another solid workout on Tuesday at the Notre Dame pro day (via Gil Brandt of NFL.com), he should come off the board early on the opening night of the draft.
No question the game tape should be used as the ultimate grading tool for any prospect, but these pre-draft workouts in Indy and back on campus are held for a reason. Another opportunity for prospects to improve their stock and pass the "eye test" in front of scouts, coaches and GMs.
And when it comes to NFL offense, look at what clubs are searching for from the WR position: inside breaking concepts, matchups outside of the numbers and third downs. Target WRs that can create leverage on the slant, dig, 7 (corner) route and generate separation down the field in the vertical game. Basic route concepts that I broke down earlier this week on the chalkboard.
Floyd gives you that. Does that bump him up in front of Oklahoma State's Justin Blackmon? Not from my perspective. But it does put the Notre Dame product in a position where he should be the second WR selected in front of Baylor's Kendall Wright, Georgia Tech's Stephen Hill, etc.
There is still some time here before we actually get to the draft later this month, but considering that this is a now a passing league, prospects like Floyd don't last long when the picks start coming off the board. And size and speed still sells when you are trying to get the ball down the field—regardless of the offensive scheme you play in.
Click here to see the NFP Big Board.
Follow me on Twitter: @MattBowen41