April 23, 2012 -
Matt Bowen
NFL Draft: Three prospects to keep an eye on
Looking ahead to opening night of the NFL Draft—and throughout the weekend—here are three prospects I want to keep an eye on: Oklahoma State QB Brandon Weeden, Memphis DT Dontari Poe and North Alabama CB Janoris Jenkins. Talent for sure, but where do they grade out on team's draft boards?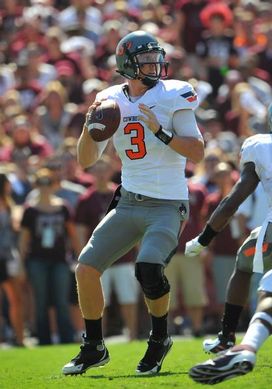 ICONCould Weeden come off the board in the late first round this Thursday night?
1. QB Brandon Weeden, Oklahoma State: I think we forget about Weeden with all of the talk surrounding Ryan Tannehill. Yes, I understand the questions surrounding his age (28), but considering he might be the fourth QB selected in the draft, could we see Weeden come off the board in late first or early second round? The Oklahoma State product did play in a pure spread system, however, he can make all the throws in the NFL route tree and could find some real playing time as a rookie if he ends up with a club that allows him to compete for a No.1 job. Cleveland at No.22? A possibility if the Browns pass on Tannehill and select RB Trent Richardson with the 4th pick in the draft.
2. DT Dontari Poe, Memphis: Size and legit athletic ability. Poe was one of the "winners' coming out of Indy because of his sub 5.0 40 at 340-plus pounds. However, are we looking at a prospect that will climb the board in the first round based off of combine hype? Listen to pro scouts and they will tell you the game tape isn't consistent enough. "Very talented, but instincts are an issue," as one scout told me. Poe can fit in multiple defensive fronts and should provide an inside rush on third downs because of his power at the point of attack. An interesting prospect with raw talent that needs to be developed under pro coaching. And you don't find many big men with his atheltic skills. How high does he go? That's exactly what I want to find out on Thursday night.
3. CB Janoris Jenkins, North Alabama: Jenkins' off the field concerns are out there for everyone to see, and that could lead to a slide down the board for the CB despite the talent on the field. Going back to the Senior Bowl practices, I thought Jenkins displayed good footwork, technique and wanted to compete. Plus, there was a general "buzz" about the CB from scouts I talked to down in Mobile. Now, I'm curious to see how far he drops. This is a passing league and every club needs depth and coverage ability in their secondary to play three and four WR sets. The question: is the talent worth the risk?
Click here to see the NFP Big Board
Follow me on Twitter: @MattBowen41