April 24, 2012 -
Matt Bowen
NFL Draft: When will the 'run' on CBs begin?
Looking ahead to the NFL Draft, I'm curious when we will see the "run" on the CB position. That time when teams start to show some panic, adjust their draft boards and begin to target the position.
We all know LSU's Morris Claiborne will come off the board early (possibly in the Top 5), but who's next? You start looking at prospects such as South Carolina's Stephon Gilmore and Alabama's Dre Kirkpatrick. Two CBs that should carry first round grades into Thursday night.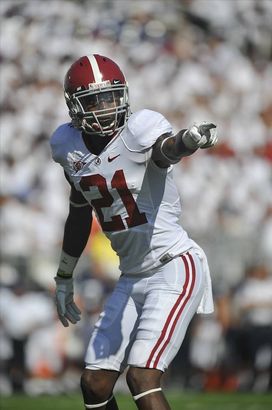 ICONAlabama's Dre Kirkpatrick.
Think of it this way: CB is a premier position in today's game. All you have to do is study NFL offenses and the game plans on Sundays. This is a passing league now—and secondaries are consistently tested.
Here are some of the personnel groupings offenses will use to spread the field: Posse (3 WR, 1 TE, 1 RB), Jet (4 WR,1 RB), Kings (4 WR, 1 TE) and Ace (2 WR, 2 TE, 1 RB) with the "move TE" removed from the core of the formation as a third wide out. And with that comes players aligned out of position, pre-snap movement, etc. All done to create a matchup advantage.
A topic I hit on this past Friday when talking about the Eagles desire to deal veteran Asante Samuel. Of course there is some interest in a CB with experience and man-coverage ability. You need that as a defense if you want to play Cover 1, use pressure and roll three (or four) CBs on the field in early down and distance situations.
No different when we talk about the draft. NFL teams need to upgrade their defensive backfields, generate competition for jobs in the nickel and dime packages, plus fill their roster with special teams depth. That fourth and fifth CB on the roster? They better play a significant role on your coverage units.
I think the "run" comes in the late first and carries over into the second round. This is a deep draft class when we look at the position. Top talent in the prospects I mentioned above, but enough depth to find players (Brandon Boykin, Josh Robinson, Janoris Jenkins, etc.) that can compete for playing time as rookies.
And some of these prospects could come off the board earlier than we expected if NFL clubs see the value of adding talent to their secondary.
Click here to see the NFP Big Board
Follow me on Twitter: @MattBowen41