April 25, 2012 -
Matt Bowen
NFL Draft: would you trade up for Mark Barron?
Click here to see a video breakdown of Barron in run support.
Back at the NFL combine, I took a quick look at the safety class coming out in this year's draft. A "light" class as I described it. Some talent at the top with Alabama's Mark Barron, Notre Dame's Harrison Smith, Oklahoma State's Markelle Martin, etc.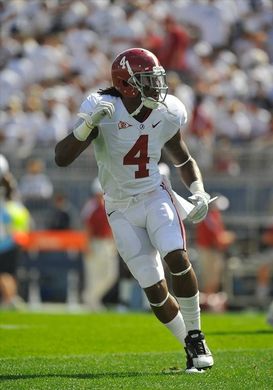 ICONWill a team trade up tomorrow night to draft Alabama's Mark Barron?
However, when compared with the numbers at the CB position, this class lacks in overall depth. Because of that, we have to consider multiple teams will be in the mix for Barron.
And while Smith and Martin grade out as prospects that can compete for playing time, Barron should come in and start as a rookie.
When does he come off the board? Looking around at the mock drafts, Barron is penciled in to the Cowboys at No.14. A smart call if Dallas can draft the safety after adding free agent CB Brandon Carr this offseason. A defense under Rob Ryan that will play blitz-man and use their safeties in multiple looks. And you need talent in the back end to win consistently in that scheme.
Sure, a club in front of the Cowboys could select Barron (the Bills at No.10). That's a real possibility. And for the teams in the second half of the first round in search of a starting safety, they might have to put together a deal to move up. Think of the Jets (No.16), Chargers (No.18), Bengals (No.17, No.21) or the Patriots (No.27, No.31). Just a few teams that could upgrade their secondary with the safety.
The question I have is simple: would you move up to get Barron? I talked about NFL offenses yesterday when I looked at the CB position. You need depth in your secondary to compete vs. today's offensive game plans. And finding a safety is no different, especially with schemes designed to get the ball to the TEs.
Maybe there is no movement tomorrow night and Barron comes off the board in the mid-to-late first round. However, when there is only one safety that is considered a first round talent, I wouldn't be surprised if a team decided to go get him.
Click here to see the NFP Big Board
Follow me on Twitter: @MattBowen41