August 17, 2010 -
Matt Bowen
NFL news and notes
Let's check in on some news and notes from around the league on this Tuesday morning…
Westbrook heads to San Fran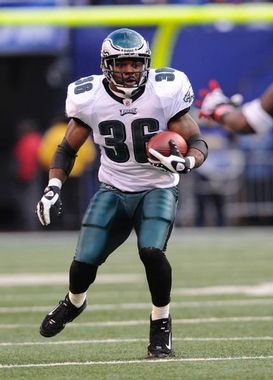 ICONWestbrook can still have an impact for the Niners.
This is a good landing spot for the former Eagle. We know he isn't a feature back at this stage of his career, but he doesn't have to be in San Fran. He can slide into a role behind Frank Gore and still have an impact for Mike Singletary's club. I still see Westbrook as a back who can produce on a limited number of touches in both the inside and outside run game along with what he can do catching the football out of the backfield. Yes, health and durability are a concern with any veteran running back—and Westbrook has had multiple injuries—but with a one-year deal worth $1.25-million, I don't really see any downside here.
The Niners needed to add a player to the backfield after the sudden retirement of Glen Coffee. Now they get one that can play in the offensive sub packages, excel in pass protection and should contribute to a club that is a sexy pick in the NFC West heading into the regular season. A much better option after the talk we heard over the weekend of Westbrook possibly heading to St. Louis.
New Orleans grabs Betts
Hard for me not to be somewhat biased towards LaDell Betts after playing with him both at the University of Iowa and for three seasons as a Redskin, but again, we are talking about a club in New Orleans who wanted to add a veteran running back. The question with Betts is going to be the health of his knee after an injury last season. If he shows over the next three weeks that he still can get downhill in the run game, the Saints can add some quality depth to the regular season roster. Betts is a one-cut runner, can square his pads in the hole, plus is better than advertised in the open field and coming out of the backfield in the passing game.
Knocking Tebow already?
ICONDenver's Tim Tebow.
I am curious about the criticism QB Tim Tebow took after playing late in the Broncos preseason game against Cincy on Sunday night. Lots of talk about his throwing motion again. From my point of view, that doesn't matter if he is moving the ball. We will get into this at a later date, but just like 40-times, the short shuttle and various other combine drills, Tebow changed his motion to impress scouts and coaches leading up to the draft. What we saw Sunday night is how he throws. There are plenty of QBs who don't have the ideal release in the league. Let him play ball—and let's see what happens.
Quick Hits...
The Bears have interest in veteran QB Todd Collins, according to the NFP's Brad Biggs, after backup Caleb Hanie left Saturday's preseason game with a shoulder injury. Rookie Dan LeFevour saw some minutes against the Chargers, but didn't play up to the speed of the NFL game. He looked timid and very unpolished. What we should expect from a rook, but Mike Martz is tough on his QBs. Collins is a safe choice if the Bears can get him into camp.
The Ben Tate injury in Houston is big from my point of view. The Texans have two backs in Steve Slaton and Arian Foster, but I did see Tate gaining a role at some point in the regular season. Someone in Houston has to be able to move the sticks, convert on third and short and score inside of the 10-yard line for this team to be successful. I thought Tate could have been that player for Kubiak's club. Plus, you neevr want to lose a second round pick for the season this early in August.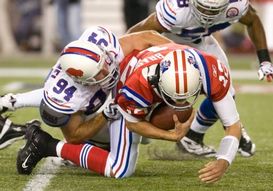 ICONSchobel had 78 career sacks in Buffalo.
Surprised that former Bills DE Aaron Schobel is announcing his retirement. Schobel can still rush the passer as a DE in a 4-3 front and has enough athletic ability to play as a rush backer in a 3-4 scheme. Great with his hands off of the edge and better speed than we give him credit for. Would have been a quality pickup for a number of teams this season. One of the more interesting guys I had a chance to play with—and I am not sold that he is done.
You see the hit Eli Manning took last night vs. the Jets? Any time a helmet comes off of a QB—there is a problem. That could have been nasty. Eli was lucky all he got was stitches.
Follow me on Twitter: MattBowen41
Click here to purchase the Total Access Pass/ Fantasy Draft Guide from the NFP and receiver a free Deuce Brand watch while supplies last.