September 06, 2010 -
Matt Bowen
NFL notebook
With the preseason—and the majority of the roster cuts—behind us, let's talk some regular season NFL football. Some notes to think about as teams start to hand out game plans and study tape on their Week One opponents.
Woodson vs. the Eagles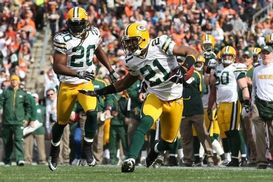 ICONGreen Bay's Charles Woodson.
Keep an eye on Packers' CB Charles Woodson on Sunday when Green Bay travels to Philly. The Eagles—under Andy Reid—are a west coast offense. What that means from a defensive perspective is to prepare for inside breaking routes—with the majority of the throws coming between the numbers and the hash marks. This sets up well for Woodson when he is aligned as an underneath player in the Packers 3rd down sub packages in coordinator Dom Capers' scheme. He has a unique ability of baiting QBs and jumping routes. Plenty of chances for the 2009 DPOY to get his hands on the football this Sunday against Kevin Kolb and the Eagles.
Revis under contract
We will talk about the impact of Darrelle Revis ending his holdout more as we get closer to next Monday night's Jets-Ravens matchup, but for now this gives Rex Ryan options. He gets his top-tier CB to play outside of the numbers on Anquan Boldin, and when the Ravens do move their new WR inside in pasing situations, Ryan can play combination coverages--essentially doubling the slot. Having a true No.1 CB on your defense allows you to get creative, take more risk and play that pressure defense that Ryan is know for with productive results. Revis will have to work in practice this week to train his legs for conditioning purposes, but his technique will still carry him early in the season.
The Pittsburgh QB situation
I am sure we will get into this more as the week progresses, but for today, who starts and what type of game plan do you carry into Sunday? If it is Dennis Dixon, the Steelers have to limit what he does with the football. I know that he has ability in the pocket and can make plays with his feet, but to win in this league, QBs have to protect the football and make decisions that set up field position for their defense. Keep it simple: 3-step routes play action and some movement passes (boot, swap boot, etc.). Defense has to win in Pittsburgh until Ben Roethlisberger returns.
The Buffalo offense
I am anxious to see the Bills play on Sunday, because their offense has shown some big play ability in the preseason. WR Lee Evans is a very good vertical threat and we all can see that RB C.J. Spiller can flip the field and press the edge of the defense. But, it will always come back to QB Trent Edwards. He has to make the throws in Chan Gailey's offense and when he does have opportunities to stretch the field he has to produce. A good August from Edwards, but I want to see it when it counts.
Gregg Williams' pressure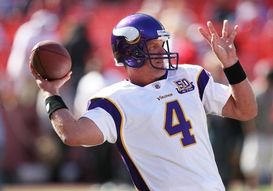 ICONExpect the Saints to give Favre and the Vikings multiple defensive looks.
The Saints will show the Vikings multiple looks on Thursday night in the opener. And with Williams calling the plays for this defense, expect to see plenty of pre-snap disguise to cause confusion in the Vikings protection schemes. Winning one-on-one matchups in the NFL is part of playing pressure defense, but the idea is to get free runners to the QB. That is what Williams will try to do by sending six and seven man pressure at QB Brett Favre and playing combination coverages in the secondary. The game plan will be thick and Williams will work to get Minnesota into 3rd and seven-plus situations where he can use his secondary to add to the blitz front.
Texans game plan
Andre Johnson will make plays against the Colts on Sunday, but what I am looking for is the balance of the Houston game plan. Run the ball with Arian Foster and set up passing opportunities. Force Indy to play with an eight-man front and walk the strong safety down into the box—which gives QB Matt Schaub opportunities to work against a single-high safety defense. The Colts want to get the Texans into 3rd and long situations where they can play Cover 2, get a jam on Johnson at the line of scrimmage and let their front four rush the QB. Houston has to run the ball with production to get those 3rd and five, 3rd and four situations—which gives them multiple options in their play calling.
Some quick hits…
- Does anyone buy the idea that Donovan McNabb isn't going to play in Dallas on Sunday night? There are ways to make sure an ankle can hold up for three hours on football.
- T.O. and Chad Ochocinco vs. the Pats' secondary. Experienced talent versus a young defensive backfield.
- How does Charlie Weis use Chiefs' rookie WR Dexter McCluster against the Chargers? Offensive coordinators will put their exotic packages on the shelf in the preseason. Let's see what they have planned for McCluster. This rookie can be exciting.
- The Giants defense is going to get after the QB in 2010. New coordinator Perry Fewell showed plenty of pressure in August. Expect more on Sunday.
Stay with the NFP all week for our NFL Power Rankings, Super Bowl predictions and analysis on all of the week one action.
Follow me on Twitter: MattBowen41
Click here to purchase the Total Access Pass from the NFP—your fantasy headquarters.