July 26, 2011 -
Matt Bowen
NFL notebook
Here are a couple of quick thoughts from what we have seen today in the NFL…
Undrafted rookie free agents: Take some to check out Wes Bunting's list of the top undrafted rookies that signed with NFL clubs today—but don't start placing these guys on the depth chart just yet. The key for all of these newly signed rookies is to show up in practice and in the preseason games. And if they play a skill position, that has to come on special teams. A long, long way to go before we can talk about these rooks on opening day rosters.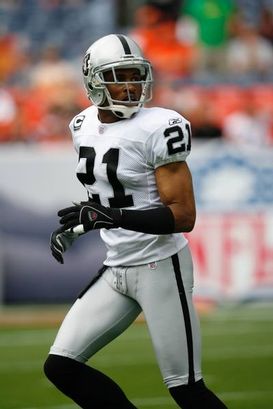 ICONFree agent CB Nnamdi Asomugha.
More Asomugha talk: Texans, Jets, Eagles, Redskins, Ravens, etc. Someone is going to pay big for the CB (and top FA on the market), but this will be an investment that brings immediate returns to any defensive game plan. I would still like to see Asomugha line up in the Texans secondary in Wade Phillips scheme, but if the Jets show serious interest, that would be hard for any player to turn down.
Seattle QBs: Pete Carroll is going to let his players compete in camp. That's his style. But what is the plan at the QB position? The club reached an agreement with Tarvaris Jackson today, have veteran Charlie Whitehurst and still could bring Matt Leinart into the mix. Do you see an answer there?
Kevin Kolb: Now that Seattle has signed Jackson, should we expect the Eagles QB to land in Arizona with the Cardinals? Maybe, but at what value? I have heard everything today, with some speculating that Kolb still carries a first-round value on the trade market. High price to pay for a QB that doesn't have a lot of NFL starting experience. I want to see this play out.
Santana Moss back to the 'Skins: Solid move from Washington. What you get with Moss is a true pro at the WR position. He is tough, runs good routes and still has some burst left in his game. The veteran takes a 3-year deal for $15 million to stay in D.C.
Hasselbeck: I still think the vet can win games in this league, and am now interested to see where he eventually lands as a No.1 QB. The Titans seem like the logical fit, but let's see how Kolb impacts this situation first—because Hasselbeck could be an option for the Cards.
Yanda and the Ravens: Baltimore re-signed guard Marshal Yanda to a multi-year deal that will pay him $32-million. That's big money for the former Iowa Hawkeye and a good move by the Ravens to take care of the talent along the O-Line.
McNabb to Minny: Not an official deal yet. However, from the perspective of the Vikings, this would be the right play in my mind. With no offseason (or NFL coaching), throwing rookie Christian Ponder out on the field isn't going to do anything to help the rookie QB. Bring a veteran in. If it isn't McNabb, look for another name.
Plaxico's possible return to N.Y.: I don't know what you can expect from Burress as an every down receiver in his first year back in the league, but he can run the slant and fade inside of the 10-yard line. Let's see if Plax heads back to the Giants this week.
Veteran cuts: Dallas announced today that they will let go of veterans Roy Williams, Marion Barber and Marc Colombo. All three could draw some interest as second tier free agents, but the talk of Williams reuniting with Mike Martz in Chicago? I don't see that happening. The WR hasn't shown much on film.
Follow me on Twitter: MattBowen41