August 09, 2012 -
Matt Bowen
NFL preseason: My advice for rookies
Let's be realistic when it comes to rookies this weekend with a full slate of preseason games: they will make some mistakes. All part of the developmental process as they adjust to pro competition in game situations.
Some advice for the rooks? Here are five things I would tell them as they prep to put on an NFL jersey for the first time…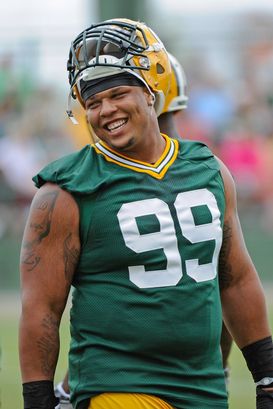 US PRESSWIREThe speed of the game will increase for Green Bay's Jerel Worthy and the rest of the rookie class this weekend.
1. Conditioning: You are going to be tired after three snaps. I guarantee that. During camp, you might get a six-play rotation. But in the preseason you could be on the field for a 10-12 play drive. Add in the adrenaline (plus the emotion) of playing in an NFL stadium for the first time and you will be gassed after a couple of snaps. When your legs get heavy, you must focus on technique.
2. Alignment and Assignment: Basic schemes. That's what you will see on the first preseason weekend. Coaches are looking for rookies that can line up, read their keys and play ball. If you are sitting around in the hotel today, get in your playbook. You can't have mental busts on schemes you have been working on for almost two weeks in camp. That will get you cut—quickly.
3. Speed of the game: The speed is going to increase dramatically from the pace these rookies saw in practice. That's going to happen when the evaluation process takes a step forward in the preseason. It might take four or five plays to get adjusted to the speed, but be prepared for the fastest football you have ever seen. Remember, everyone can run in this league.
4. Play under control: I know these rookies are going to be excited. I was the same way in 2000 with the Rams. Opening kickoff the preseason schedule and I made the tackle inside of the 20-yard line—but I was at least 5-yards offsides. Slow your heart rate down, trust what you see and play football. Coaches won't keep guys around that can't play with balance, footwork and produce within the scheme.
5. Make special teams a priority: This is "live football" now in the preseason. No more "tagging off" on returners like we see on the practice field. And as I have constantly said throughout camp, developing a role on special teams is the ticket to making the club. Show something that will stand out on tape—because all 32 clubs are looking for special teams talent. Make it a priority to get off blocks, break down in the open field and run through the ball carrier when you are covering kicks. That sells at this level.
Follow me on Twitter: @MattBowen41