November 07, 2010 -
Matt Bowen
NFL Sunday: 5 things to watch
Let's take one more look at the Sunday action before kickoff. Five things that stand out in the Week 9 games…
1. Campbell vs. Cassel: Which QB can make the plays in crucial situations? That's what I want to see. 3rd and medium, in the red zone, backed up, the play action game, etc. With two teams that playa a similar style of football, I see this game coming down to QB play. When Campbell and Cassel are asked to move the sticks or take a shot to the end zone, they have to deliver. Big late afternoon kickoff in Oakland today.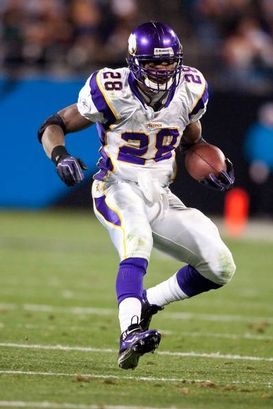 ICONThe Vikings' Adrian Peterson.
2. Adrian Peterson: Feature the Vikings' RB. I would give A.P. 25 touches at a minimum today in the Dome against the Cards. With all of the talk coming out of Minnesota this week after the club waived WR Randy Moss and the impending job security of Brad Childress, the Vikings need a win to quiet things down. Ride Peterson out of the backfield to build a lead and then sit back in Cover 2 against Arizona QB Derek Anderson. At 2-5, you have to simplify and think players before schemes.
3. Manning vs. the Eagles' secondary: There isn't a perfect game plan to use against the Colts' QB. Sit back in coverage and Manning will take the underneath routes and work the ball down the field. Pressure and he will line up in the in the gun and get the ball out of his hands quickly in the 3-step passing game. The key against Indy is—and always will be—film study and formation recognition. For the Eagles secondary, they have to take some chances and jump routes based off of what they see from the Colts' pre-snap alignment.
4. The Bears' running game: Fans in Chicago want to see a game plan from offensive coordinator Mike Martz that features running backs Matt Forte and Chester Taylor—and they might get what they want today. The Bears face a Buffalo run front that has had issues controlling the line of scrimmage. No reason for Martz not to run the basic, first day install runs: Power O, Lead Open and Lead Strong. And, let's not forget about using Taylor when the Bears bring their offensive sub packages on the field. Plenty of one-backs to add to the call sheet today.
5. Calvin Johnson vs. the Jets' secondary: Great matchup to watch—especially against a Jets' defense that wants to pressure and play man coverage. I still think 2-Man (Cover 2 with man-under principles) is the best way to take away a No.1 WR that has deep vertical speed, but expect New York to play some Cover 1 and Cover 0 (no safety help) against Johnson with a mixture of press and off-man coverage. With Darrelle Revis and Antonio Cromartie, Rex Ryan has two CBs that can challenge Johnson outside of the numbers.
Check back to the NFP later today for my game notes following the early and late kickoffs...
Follow me on Twitter: MattBowen41