October 31, 2010 -
Matt Bowen
NFL Sunday: 5 things to watch
Five things to keep and eye on during this Week 8 NFL Sunday…
1. Steelers' Mendenhall: On Friday, we talked about the importance of Darren Sharper becoming that playmaker in the secondary for the Saints, but that only happens if New Orleans can get Ben Roethlisberger and the Steelers into passing situations. Pittsburgh is averaging over 118-yards a game on the ground, and RB Rashard Mendenhall has over 500-yards on the season. Saints defensive coordinator Gregg Williams will use multiple fronts tonight (even some "46" looks), but they have to limit the production of Mendenhall to play their style of game on 3rd downs. Make the Steelers one-dimensional.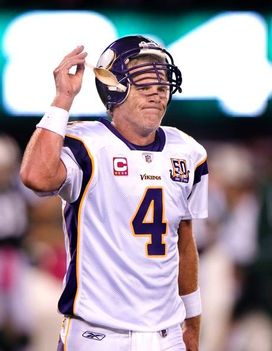 ICONDoes Brett Favre get the start today in New England?
2. Favre's status: Will Favre go today for the Vikings out in New England? Plenty of talk, opinion and speculation on Favre this week. But, regardless if we see No.4 or backup Tarvaris Jackson, let's not forget how crucial this game is to Minnesota. At 2-4, the Vikings need to put a run together. That's the ultimate decision for Brad Childress. Play the QB who gives him the best chance to get a win against Tom Brady and the Patriots—or get on that plane tonight with a 2-5 record.
3. V.Y. gets the start: Titans QB Vince Young is expected to start out in San Diego today. Outside of watching his mobility coming off of the knee injury, we should look to see if he can keep WR Kenny Britt involved in the game like backup QB Kerry Collins did. This Titans' offense is much more tougher to prepare for because of Britt and his ability to win outside of the numbers. A true deep ball player that will require safety help in certain situations of the ball game.
4. McDaniels' job security: Might be too soon to start talking about head coaches on the hot seat. But after the Raiders thrashed the Broncos, what do we hear out of Denver if McDaniels' squad drops another game against the Niners over in London? The Broncos are 2-5, and since that 6-0 start in '09, look very soft up front. Coaches in the NFL are judged on wins and losses—that's it.
5. Packers' special teams: Play big in the return game. Field position is big against Rex Ryan's Jets. Tough to continually drive the length of the field to produce points. Green Bay needs to flip the field on a return and set up QB Aaron Rodgers in plus territory. Plus, it opens up the offensive playbook. Easier to call plays when you aren't backed up against a pressure defense.
Follow me on Twitter: MattBowen41