November 20, 2010 -
Matt Bowen
NFL Sunday: 5 things to watch
Five things to watch for heading into tomorrow's Week 11 NFL Sunday action...
1. Rodgers vs. Minnesota's front four: If the Vikings want to continue to play with their Cover 2 scheme (as a lead call) under defensive coordinator Leslie Frazier, they have to be able to generate a pass rush with their defensive front. But, this unit hasn't been productive. Go back to last week against a Chicago' O-Line that has underperformed all season. The result: one sack. Give Packers' QB Aaron Rodgers time to throw, and he can carve up an average Vikings' secondary. Look for more D-Line stunts and even some zone pressure if Jared Allen and the rest of that defensive front can't get to Rodgers.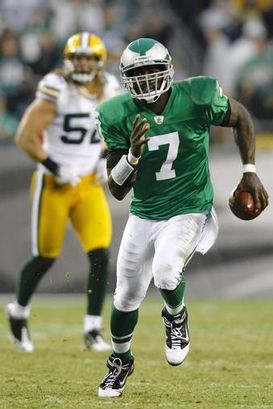 How will the Giants game plan Michael Vick Sunday night?
2. The Giants' defensive game plan: In New York, coordinator Perry Fewell has a defensive front that can use speed to collapse the edge, but it all comes down to contain principles. If you want to play coverage, you better have a D-Line that can come back downhill once Vick steps up and looks to run. Fewell is a Tampa 2 coach, but unlike the schemes we see in Chicago, Indy and Minnesota, he is more aggressive in his play calling. Don't be shocked to see more pressure looks Sunday night in a must-see NFC East game.
3. The Patriots' secondary: You know the top route concepts you are going to see from Indy: china-dig, smash-7, options, hi-lo concepts, 4 verticals, etc. But, the key for any secondary—especially a young unit in New England—is disguising your looks. This hasn't changed since I was playing. Bill Belichick will have a game plan that can win against Manning, but the secondary has to use enough movement in their pre-snap alignment and roll their coverages at the snap of the ball. Show Manning what you are playing in the secondary and he will pick you apart.
4. Jason Campbell: Can Oakland go into Pittsburgh today and get a win? I think so, but to do that, the Raiders' QB has to make the simple throws in this offense. We aren't talking about a 300-yard day in the box score. However, when the Raiders need a play on third down or in the red zone, Campbell has to make the throw. The quick slant, the fade inside of the 20-yard line, and just like we saw against the Chiefs, the deep 15-yard dig against good coverage. Got to have those throws against a defense that has something to prove after last week's lost against Tom Brady and New England.
5. Arian Foster: The Texans need a win over the Jets to get back into the AFC South discussion. To do that, they need to ride Foster. This allows the Houston offense to control the clock, set up very manageable third down situations and use the boot action with QB Matt Schaub. The last thing the Texans want is to face this New York defense in third and long—but that is exactly what will happen if they start slinging the ball around tomorrow. Control the tempo if you want a win against the Jets.
Check back to the NFP tomorrow for my post game notes following the early and late kickoffs.
Follow me on Twitter: MattBowen41