October 17, 2010 -
Matt Bowen
NFL Sunday: 5 things to watch
Let's take a look at five things that stand out heading into today's Week 6 NFL action…
1. Ben Roethlisberger's return: I don't have any worries about the vertical game with the time off. But, the short to intermediate passing game is something to keep an eye on along with his pocket awareness. Roethlisberger's return should lead to a wide open playbook in Pittsburgh, but let's see how he responds today after the suspension. That is a lot of time away from the facility, the practice field and the meeting room.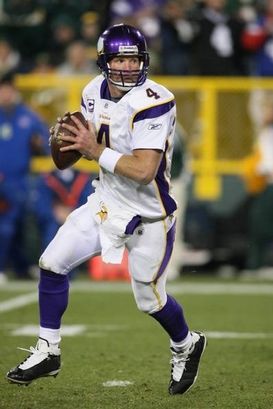 ICONWill Favre's elbow come into play today?
2. Favre's injury: Plenty of talk about Brett Favre off the field, but is the elbow injury enough for Brad Childress to give him the hook if the production isn't there? WR Randy Moss will be a bigger part of the Minnesota route tree today in the 3-step passing game (along with the vertical routes), but the attention will be on Favre. Hard to imagine with Favre, but Tarvaris Jackson might need to stay loose on the sidelines.
3. The Patriots' secondary: How does Bill Belichick game plan against Joe Flacco and the Ravens? We know what you get when you line up against the Ravens in early down and distance situations, but when we start to break down the Pats in their third down sub packages on defense, what are we going to see? Baltimore's Anquan Boldin and Todd Heap are both matchup issues for this young New England secondary.
4. The Broncos run front: Throw in the tape from last week's Broncos-Jets matchup and you will see a Denver run front that was soft at the point of attack and could not control the line of scrimmage. The issue? The Jets were watching the same tape all week. Expect to see plenty of LaDainian Tomlinson and Shawn Greene until Denver shows they can play a physical brand of football up front.
5. The Bucs' Josh Freeman: Are the 3-1 Bucs for real? The NFP's Dan Pompei discussed Tampa and QB Josh Freeman today in his "Sunday Blitz." The young QB is making plays in crucial situations. Today, look for an advanced game plan from Saints' defensive coordinator Gregg Williams. Freeman did see the Steelers' defense earlier this season, and some of those schemes will show up again today down in Tampa. Williams, like Pittsburgh's Dick LeBeau, loves to use his zone blitz schemes—and get creative.
Check back to the NFP following the early and late kickoffs for some my quick game notes...
Follow me on Twitter: MattBowen41