December 18, 2010 -
Matt Bowen
NFL Sunday: five things to watch
With some crucial games on the Sunday schedule, let's talk key matchups, personnel, etc. Five things we should watch for tomorrow in the Week 15 NFL action.
1. Packers' secondary: Expect New England to use bunch sets, stacked wide receiver looks and pre-snap motion—all to try and take advantage of an aggressive Packers' secondary. Use those pre-snap alignments to get a free release at the line of scrimmage and work away from the defenders leverage in the short to intermediate route tree. I see a game where Green Bay has to use five and six-man pressure from a defensive perspective to force the issue vs. Tom Brady—and that will put stress on this Packers' secondary. Charles Woodson, Tramon Williams and Nick Collins have to play with top tier technique, challenge the New England WRs and take some risk—because you need big plays from your defensive backs to beat Brady.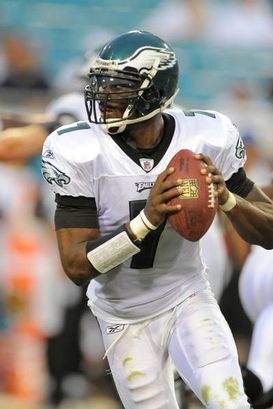 ICONVick should see some new looks from the Giants' defense tomorrow.
2. Game planning Vick: I am interested to see what Giants' defensive coordinator Perry Fewell has planned for Vick tomorrow. Even with the short week due to the Monday night game in Detroit, can New York come up with two or three new packages to give Vick some different looks that aren't on tape? That first meeting back in Philly is big from a film-study perspective for the Eagles' QB, and because of that you have to get creative and install a couple of new schemes. It is an opportunity to challenge Vick mentally and force him to make some bad decisions with the football early in the game.
3. Sanchez vs. the Steelers: The Jets' QB needs to eliminate the mistakes that have hurt this offense over the last two weeks. We know the Steelers—even without safety Troy Polamalu—are going to show the Jets' QB plenty of pressure and some 2-Man in passing situations. Sanchez must do a better job of seeing the field and understanding where he can go with the football. The Jets should have a game plan that features the run game, but if they want to get out of Pittsburgh with a win, Sanchez will have to step up in some crucial second half situations, make a big throw and get the ball into the end zone.
4. Colts' front seven: How does this Indy defense respond to a physical game from the Jags? If the Colts want to get back to post season football they have to win at the line of scrimmage, defeat one-on-one blocks and allow their linebackers to pursue downhill to the football. We know that Jacksonville will lead with RBs Maurice Jones-Drew and Rashad Jennings in the game plan, and if Indy wants to display that pressure in passing situations with Dwight Freeney and Robert Mathis, they have to win up front in early down and distance situations. Don't be surprised to see the Jags run the ball 40-plus times, because it not only controls the tempo of the game, but it also keeps Peyton Manning on the sidelines.
5. Saints' pressure: Ravens' QB Joe Flacco has struggled vs. pressure in the last two weeks. Go back to the late fumble vs. the Steelers and even in the Monday night win over Houston. What I have seen is a QB who is failing to see edge pressure and adjust to his hot reads. Flacco has to expect the same pressure schemes from Gregg Williams' defense. The Saints will use their secondary to bring six and even seven-man pressure against the quarterback. Look for safety Malcolm Jenkins off of the edge—which leads to consistent pressure and zone droppers stepping into throwing lanes. Flacco will have to show poise and the ability to adjust at the line of scrimmage vs. the multiple blitz looks he is going to see from New Orleans.
Check back to the NFP tomorrow from my quick game notes following both the early and late afternoon Week 15 kickoffs.
Follow me on Twitter: MattBowen41