October 01, 2011 -
Matt Bowen
NFL Sunday: Five things to watch
Let's talk Week 4 matchups here at the NFP. Five things I am looking at on the Sunday NFL schedule…
1. Jason Campbell's production: Campbell doesn't have to match Tom Brady in terms of numbers here, but he does have to outplay the Patriots' QB in crucial situations. Think 3rd and medium (3rd and 5-8), inside of the 10-yard line and in a 2-minute situation. I don't have any doubts about the Raiders running the football with Darren McFadden vs. this Patriots' front seven, but to beat Brady and move to 3-1, the Oakland QB must show up when this club needs a big play in the passing game.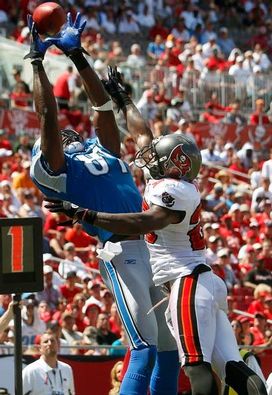 ICONWhat does Rob Ryan have drawn up in his game plan to stop Calvin Johnson?
2. Calvin Johnson vs. the Cowboys: What's the game plan in the secondary to stop Johnson? Six TDs already after three weeks for the Lions' WR and I've seen them come vs. press-man, press-bail, zone coverage, etc. I am a big fan of what Rob Ryan is doing in Dallas from an Xs and Os standpoint, but does he have an answer for Johnson? Plus, how do you defend him inside of the 20-yard line? I'm almost thinking playing a "cloud" CB (think Cover 2 technique) to get a re-route on Johnson at the line of scrimmage with a safety sitting over the top. Let's see what Ryan comes up with.
3. Flacco vs. the Jets' secondary: This becomes a much more interesting matchup due to the production of WR Torrey Smith last week in the win over the Rams. I still am looking for RB Ray Rice to be a big part of the game plan, but with Smith, the Ravens can use the vertical route schemes down the field to open up some opportunities for Boldin inside of the numbers. Interested to see how the Jets play this matchup with Revis and Cromartie.
4. Steelers' O-Line: Watching that Sunday night win over the Colts, it was obvious that this Pittsburgh O-Line had no answer for Mathis and Freeney. Tomorrow, more pressure from Wade Phillips' 3-4 front. Look for edge blitz concepts, some inside stunts and a defense that works to collapse the pocket vs. Ben Roethlisberger. That should give the Steelers opportunities to work one-one-one matchups with WR Mike Wallace down the field—but they have to win in their protection schemes first.
5. Michael Turner: I like this Atlanta offense because of the talent Matt Ryan has to work with outside of the numbers and at the TE position with Tony Gonzalez. However, I still see Turner as the key to establishing an identity for the Falcons from an offensive game plan perspective. Run the football, force the Seahawks to drop a safety into the box and set up opportunities to test the top of the defense tomorrow. That's where you will see the vertical route schemes come into play for WRs Roddy White and Julio Jones.
Follow me on Twitter: MattBowen41