December 03, 2011 -
Matt Bowen
NFL Sunday: Five things to watch
Let's go around the league and talk matchups, personnel, plus some Xs and Os. Here are five things I am looking for on the Sunday NFL schedule.
1. Matching up with Sproles: Gregg Williams' defense has a tough matchup working vs. Detroit WR Calvin Johnson, but don't forget about Sproles when Drew Brees has the ball. The first issue is finding the correct matchup with the Saints' RB is his pre-snap alignments. Sean Payton will move Sproles out of the backfield, use motion and get him into a matchup where a simple option route (work off of the defender's leverage) can lead to an explosive play. Does that mean we see more zone-based concepts from the Lions' game plan? That's possible, but the key with Sproles is tackling—in the open field. How many times have we watched the RB take a simple check down and turn it into first down yardage? No question Graham, Colston and Moore have to be accounted for in the game plan, but my focus is on Sproles if I want to get off the field on third downs.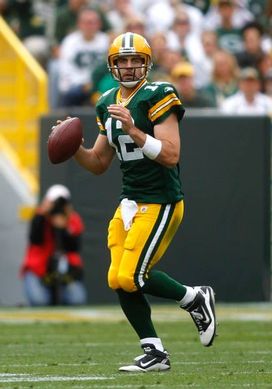 ICONDoes the Giants' defense have an answer for Rodgers and the Packers?
2. Giants' defense vs. Rodgers: Perry Fewell's defense was exposed in the Monday night loss to Saints and it won't be any easier tomorrow with Rodgers and the Packers' offense coming to town. However, look past Xs and Os right now and think technique with the Giants. You will see some pressure looks, Cover 2, 2-Man, etc. in Fewell's game plan. But I'm more focused on footwork, leverage and assignments in the secondary over the call in the huddle. As I've said before, there isn't an ideal game plan you can design to limit Rodgers, so rely on your technique. Jennings, Nelson and Finley are going to make some plays, but as a defensive player, use your help in the middle of the field, take away the vertical game and trust what you see in your run-pass keys.
3. T.J. Yates gets the start: The offensive game plan for the Texans should be similar to what I wrote about on Friday with Mike Martz and Caleb Hanie in Chicago. Lead with the run game, win on early down and distances and give Yates some manageable game situations when he is asked to make a throw and move the sticks. Think boot, play action and the sprint game that will give the rookie quick primary reads in his first NFL start. Easy for us to say the Texans can ride RBs Arian Foster and Ben Tate for four quarters, but to beat the Falcons, Yates will have to make some plays on third downs and find WR Andre Johnson.
4. Tampa 2 vs. Tyler Palko: Break down the Bears defense this season and you will find more Cover 1 and zone pressure schemes at the top of the game plan with their core Tampa 2 call reserved for specific game situations (third and long, red zone, two-minute). But with Tyler Palko expected to make another start at QB tomorrow for the Chiefs, I wouldn't be surprised to see Lovie play more Cover 2 vs. a QB that has had major issues protecting the ball. Rush four, drop seven into coverage and force Palko to thread the ball into tight windows. If (or when) Kyle Orton takes some snaps the game plan could change. However, I like the idea of having seven defenders dropping to a landmark vs. a QB that has thrown six interceptions in his last two starts.
5. Steelers' vertical game: How about some explosive plays from this Pittsburgh offense vs. the Bengals tomorrow? Ben Roethlisberger and the Steelers looked sloppy from an offensive perspective in their win last Sunday night over the Chiefs and the production was down. I do believe Rashard Mendenhall needs to play a key role to beat a very good Bengals defense and that leads to opportunities down the field with WRs Mike Wallace and Antonio Brown. Think play action here and the vertical game vs. a beat up Cincy secondary. And if you don't move the ball and produce points, the Bengals have enough weapons on offense with QB Andy Dalton to win this game in Pittsburgh.
Follow me on Twitter: @MattBowen41