November 27, 2010 -
Matt Bowen
NFL Sunday: five things to watch
Five things to watch for heading into tomorrow's Week 12 Sunday NFL action. The Bears vs. Vick, Matt Ryan, the Colts' defense and more.
1. The Bears' defense: This has been the talk in Chicago all week. Lovie Smith's defense vs. Michael Vick. Do the Bears get creative because of one dynamic player at QB? I don't see it, because Lovie Smith's game plan isn't going to change. We will see the Bears play Cover 2; use some eight man fronts (Cover 1, Cover 3) and some zone pressure in certain situations. However, in both 3rd and medium to 3rd and long situations expect to see this Chicago defense drop seven and play Cover 2. Take away the deep ball and pursue to any underneath concept from Philly (think Hi-Lo route schemes with underneath crossers). Brain Urlacher, Lance Briggs, etc. have to tackle and get off of the field. And, when Vick breaks contain, do exactly what the Giants did vs. Philly: put a hit on the QB.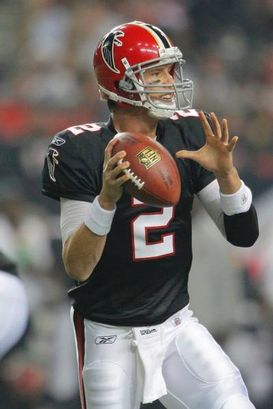 ICONMatt Ryan vs. the Green Bay secondary is the top matchup to watch on Sunday.
2. Matt Ryan vs. Green Bay: Great matchup to watch in an early kickoff tomorrow down in Atlanta. As the Falcons showed in the win over Baltimore in Week 10, they can put the entire game plan in their QB's hands. He is polished, seeing the field and protecting the football. However, this Green Bay secondary with Charles Woodson and Tramon Williams will sit on routes and play with great technique in the 3-step passing game. Very opportunistic cornerbacks who can plant that upfield foot, get downhill on the ball and trust their eyes in coverage. I wouldn't be shocked to see some double-moves early when the Falcons have the ball in the high red zone (plus 25-yard line) and near the mid-field stripe. To beat the Packers CBs you are going to have to take some risks. From a matchup perspective, this is the best game to watch.
3. The Colts defense: All of the hype surrounding the Sunday night game will focus on Philip Rivers vs. Peyton Manning. That's understandable in a national game. Sell that drama. However, I want to see this Colts' defense. This secondary has to be aggressive in their zone drops and bait Rivers into making some throws. That's not easy, but if they are sold on sitting in Cover 2 and Cover 3, then someone has to make some plays. Indy needs to force turnovers and limit the San Diego offense to field goals once they enter the red zone. Don't get into a shootout with Rivers.
4. Josh Freeman vs. the Ravens: The Bucs can learn from the Pittsburgh tape earlier in the season—because they will see some of the same schemes from Baltimore. Overload pressure, different fronts and some 2-Man is passing situations. The key for QB Josh Freeman is to identify that pressure, get the ball to his hot reads and know where Ed Reed is on 3rd downs. The Ravens' FS can take away inside breaking routes in the intermediate passing game (dig, post, skinny post, seam, etc). Freeman has to protect the ball and realize that taking a sack can be a plus in certain situations. Don't give Reed an opportunity to break on a throw vs. pressure.
5. The Vikings' offense: Interested to see how the play calling changes today vs. Washington with coordinator Darrell Bevell now having full control of this game plan. Looking at the Vikings' personnel, this should be a ball control offense that controls the tempo of the game with running back Adrian Peterson. Set up 3rd and manageable situations where Brett Favre can work the ball inside of the numbers. It is low risk and it takes the offense out of Favre's hands. No reason that A.P. shouldn't be featured in Minnesota over the next six weeks—if interim head coach Leslie Frazier wants to win games.
Check back to the NFP tomorrow for my quick game notes following both the early and late NFL kickoffs.
Follow me on Twitter: MattBowen41