September 10, 2012 -
Matt Bowen
NFL Sunday game notes
Let's go back and look at the Week 1 Sunday schedule in the NFL. Ten things you should be talking about this morning: Xs and Os, personnel and game plans.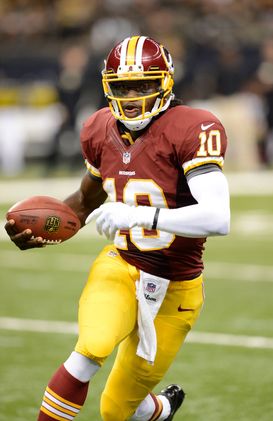 US PRESSWIREGriffin posted big numbers in his first start as a pro during the 30-22 win over the Saints.
1. RGIII lights up the Super Dome: Start with the game plan for Griffin: movement passes (sprint, boot), play action, designed runs (Zone Read), etc. A really smart (and creative) call sheet from the Redskins that catered to RGIII's skill set and allowed him to make plays in and out of the pocket. 320-yards, 2 TDs and 42-yards rushing in Griffin's first start as a pro. Those are big numbers for the rookie in the 40-32 win over the Saints.
2. Manning's control of the offense: Peyton Manning (19-26-253-2TDs) can still dictate the flow of the game. That's what you should take from the Broncos win over the Steelers on Sunday night in Denver. The no-huddle system, the checks at the line of scrimmage and the ability to methodically work over the secondary. And he did it vs. one of the top defensive units in the league.
3. The 49ers' physical brand of football: QB Alex Smith (20-26-211-2TD) deserves some real credit for how he played today at Lambeau in the 49ers' 30-22 win over the Packers. But when I look at this game, the physical style of the Niners stands out. I love the way this San Fran secondary plays. They hit, fill in the run game and tackle. And you can add in Frank Gore (16-112-1TD), the D-Line, etc. They were a more physical team than Green Bay on Sunday.
4. Cutler to Marshall: The Bears had the 3-step slant and the back-shoulder fade all day vs. the Colts because of Marshall. Look at his size, his strength at the line of scrimmage and his ability to create leverage within the route stem. See press on the outside? Check to the fade. And we should expect to see similar production from Marshall (9-119-1 TD) moving forward because this is where the ball is going in the Bears' offense with Jay Cutler (21-35-333-2TD-1INT) at QB.
5. Jets, Sanchez run it up on the Bills: New York scored in all three phases of the game (offense, defense, special teams). But the story today is QB Mark Sanchez and the offense. The Jets got production out of Shonn Greene on the ground (27-94-1TD) and Sanchez tossed 3 TD passes. Forget the Wildcat or Tim Tebow aligning as a WR in the slot, etc. That will be a non-story if Sanchez can play solid football, make good decisions and take calculated shots down the field. Now let's see the Jets' QB do it consistently.
CLICK TO PAGE 2 TO CONTINUE READING