July 23, 2012 -
Matt Bowen
NFL training camp: A guide to grading DBs
Click here for my 10 NFL training camp questions.
Click here for the entire Inside the Playbook series.
What do coaching staffs look for when they grade and evaluate the secondary during camp? Here are the five things my coaches focused on when we turned on the tape late at night in meetings. From conditioning to the ability to set your pads, let's break them down.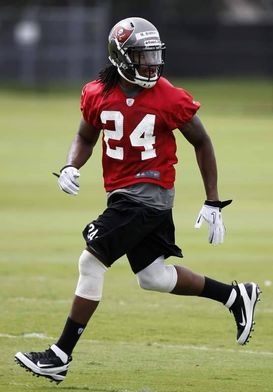 For rookies like Mark Barron, taking the proper angle is key to making an impact in both the run and pass game.
1. Conditioning: If you want to find out if a DB is in playing shape, check out his backpedal at the end of practice. If you see a corner or safety that is getting too high in his pedal and consistently using a "bucket step" (step behind) to come out of his break, he's exhausted. And when a DB is tired, his technique will suffer. Cramping in the hamstrings, soreness in the low back and groins that tighten up by the time 11-on-11 team drills begin. You can't make plays when your conditioning fails.
2. Angles to the ball: Do they understand the proper angles? Think of a FS breaking on the skinny post or a CB playing the 3-step slant from an off-man position. And we can't forget about "fitting up" (wrap up but don't take the ball carrier to the ground) during practice vs. a run that breaks past the second level of the defense. Your angle to the ball allows you to make plays, drive on routes and be a factor in the run game. Rookies will often struggle here as they transition to the speed of the NFL in camp.
3. Plant and drive: Is it smooth, clean and fast? Some DBs will use the "T-Step" (plant foot at a lateral angle) while others go with the "Bicycle" technique to come out of their breaks. Regardless, you want to see a DB that plays with low pad level, doesn't use any wasted steps and explodes out of his plant with speed. Check out individual drills and focus on the "W" drill (backpedal and plant—creating a "W"). This has nothing to do with a 40 time or a short shuttle drill. Be quick with your feet, stay square and show a burst when you come downhill.
4. One-on-ones: This competitive period is designed for the offense to succeed (no pass rush, unlimited double-moves, no safety help, etc.). In saying that, you want to look for technique and route recognition over interceptions. Can the CB or safety drive to the upfield shoulder, keep his cushion in off-man, use his hands and mirror the release in press, turn and run vs. the 9 (fade) route, play the ball at the highest point, etc. Technique, footwork and the ability to understand where routes break on the field (12-15 yards outside of the 3-step game). That's how you grade one-on-ones.
5. Hitting: If you won't tackle or show the willingness to set your pads in the run front, NFL secondaries don't have a spot for you. Check out "inside run drill" (9-on-7) to watch the safeties vs. Power O, Counter O, Lead, etc. and look up the CB when they have to set the edge of the defense in Cover 2. Are they physical players? Will they take on a FB or a pulling guard? Do they use their hips and explode on contact? I'm not talking about blowing up a defenseless WR in 7-on-7. Anyone can do that. What you are looking for at practice is a DB's ability to play with balance, use his pads and stand out in the run front.
Follow me on Twitter: @MattBowen41