November 25, 2010 -
Matt Bowen
NFL Turkey Day: 5 things to watch
Let's get you set for today's Thanksgiving games.: Pats-Lions, Saints-Cowboys and Bengals-Jets. Five things to watch for plus my picks for the entire Week 12 NFL schedule…
1. Terrell Owens-Chad Ochocinco vs. the Jets: This is what I want to see tonight. T.O. and Ochocinco in a matchup with Jets' CBs Darrelle Revis and Antonio Cromartie. Two defensive backs who can play both press and off-man coverage. The 3-step game vs. pressure and the intermediate to deep routes that require both Owens and Ochocinco to win at the line of scrimmage, create separation down the field and go get the ball at the highest point. Quality battle of big-name talent to watch in the nightcap. Owens called out Revis earlier this week--let's see if he can back it up.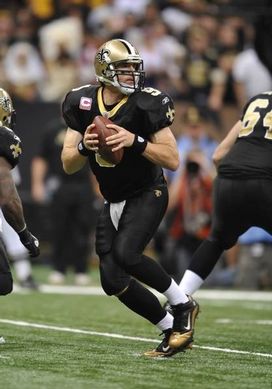 ICONThe Saints' Drew Brees.
2. Brees vs. the Cowboys: The Cowboys have played more zone coverage as a defensive unit since Jason Garrett took over as the interim head coach. How does that effect the Saints? Watch for Drew Brees to work the seam routes in the middle of the field and the 7 routes (or flag routes) outside of the numbers. Plus, if Reggie Bush can get back into uniform for today's game, expect multiple empty sets and the screen game. This Dallas secondary has underperformed all season long. Brees can take advantage of that today.
3. Garrett's play calling: How do the Cowboys game plan Greg Williams' defense today? We should expect the Saints to use a mixture of pressure and coverage--along with some exotic looks in 3rd down situations (Check out this example on the chalkboard). However, the Cowboys can run against this New Orleans' front-seven and use the screen and Lead Draw packages to get the ball into the hands of RB Felix Jones. You need options as a play caller vs. the Saints defense--and Garrett can get to that stage if Dallas has run-heavy script early in the first half.
4. The Patriots' offense: The reason I like watching New England play on offense centers around their ability to use multiple formation alignments and personnel groupings. They are tough to game plan for from a defensive perspective and can get into their Jumbo personnel (1 WR, 3 TE, 1 RB) and slow down the tempo of the game at any time. Against Detroit today, I would look for plenty of Ace personnel (2 WR, 2 TE, 1 RB) and expect Tom Brady to use both Aaron Hernandez and Rob Gronkowski against a Detroit defense that doesn't have the best matchups to limit the production of the rookie TEs.
5. Detroit's Kyle Vanden Bosch: Spend some time today watching the Lions' DE. Plays with extreme effort, uses his hands well, plus we will see a variety of power moves at the point of attack. There isn't a ton to discuss when we look at a 2-8 squad this late in the season, but Vanden Bosch is worth the time. I have been extremely impressed with his production every time I watched him play this season. The type of player you want to share the field with. Reminds me of Jags' DE Aaron Kampman.
Click here to read Joe Fortenbaugh's take on the fantasy football impact in today's games.
My Week 12 picks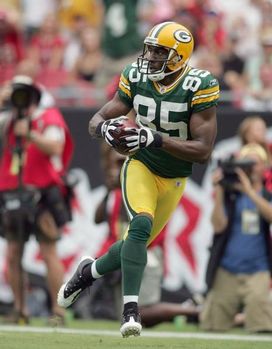 ICONJennings and the Packers travel to Atlanta.
Last week: 9-5
Overall: 66-29
New England over Detroit
New Orleans over Dallas
N.Y. Jets over Cincinnati
Green Bay over Atlanta
Pittsburgh over Buffalo
Cleveland over Carolina
Houston over Tennessee
N.Y. Giants over Jacksonville
Minnesota over Washington
Oakland over Miami
Seattle over Kansas City
Baltimore over Tampa
Philadelphia over Chicago
Denver over St. Louis
Indianapolis over San Diego
Monday Night
San Francisco over Arizona
Enjoy your family and the games today...Happy Thanksgiving.
Follow me on Twitter: MattBowen41