February 16, 2011 -
Matt Bowen
NFL's measuring stick: the 40-yard dash
40-yards. Two attempts. Run in front of the league's top brass in a cold and empty stadium in downtown Indianapolis.
There are other drills at the NFL Combine: the 3-cone, vertical, short shuttle, broad jump, etc. But none of them compare to what you can do as a prospect in the 40-yard dash. Set the hand down, get a good jump and finish strong—all the way through the line. Every scout will have their own stopwatch and keep their own times, along with the official (electronic) results from the league.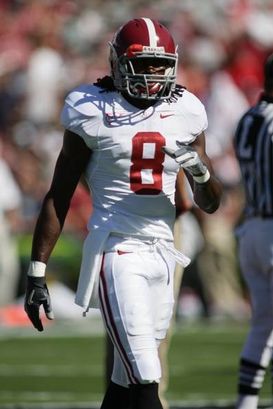 ICONA solid 40-time could boost the draft stock of Bama's Julio Jones.
It has become the NFL's ultimate measuring stick for prospects. More so for skill players, but even those 10-yard splits (important for the O-Line and D-Line) are taken from those 40 times.
That hasn't changed since I ran at the 2000 combine back in the RCA Dome on the old school turf. You go through the interviews, the testing, the medical exams, etc. during your stay in Indy. Part of the process that goes into the overall evaluations.
But if you can't run, the NFL is going to find out at the combine. And speed sells on Sunday
I understand that football is not a linear game. Even if you cover kicks for a living in the NFL, you will have to change direction and use your lateral ability to make tackles on special teams. Out in the field? The same thing. The only time you are going to run 40-plus yards as a DB is in the worst situation—when you are beat.
But we all know the first question that is asked after a big name prospect gets done with his workout in Indianapolis: "What did he run?"
We want the times. Analyze them, break them down and adjust our draft boards because of what some young prospect ran. A WR in the 4.6 range? That is going to hurt. Same with a DB or a RB. A 4.6 tells the NFL that you may appear fast on tape, but your speed isn't going to match up with the rest of the talent in the league. On the flip side, if you run in the 4.4s, your draft stock will move up. That is not going to change.
Take two top tier players in this year's class: WRs A.J. Green and Julio Jones. We all want to see what they run, becasue they have first round talent on tape.
Yes, there is plenty of money to be made (and lost) in just 40-yards of turf in Indy. The exact reason why over $7.7 million has been spent on combine training this year for rookie prospects. I've been there myself, and the main focus of that training is the 40-yard dash. Your start, acceleration, top-end speed and finish. With only two chances to post your best time, it isn't surprising that so much attention is paid to one aspect of the combine.
I don't like the idea that "numbers" can sometimes compare to what we see on game film—the true measuring stick of a player. And we all have all seen payers come out on Indy with major hype only to end up being a bust in the NFL. I want football players on my roster over "workout players" that shoot up draft boards after a posting a fast time. However, that 40-time is still a part of the process.
And, as a prospect, you better come to Indy ready to run.
Follow me on Twitter: MattBowen41