November 28, 2011 -
Matt Bowen
NFP Sunday Rewind
Let's go around the league and discuss some Sunday football: breakdowns, Xs and Os, plus personnel. Here are ten things you should be talking about—starting with Tebow and the Broncos.
1. Time to buy into the Broncos' style: There's no need to sit here and talk throwing mechanics, play calling or the route tree with Tim Tebow and this Denver offense anymore—because the QB is 5-1 as a starter. Once again, Tebow (who had 22 rushing attempts) made some plays in the 4th quarter. And when we start to breakdown the level of football this Denver defense is playing at, this club can compete for the AFC West title. I give a lot of credit to John Fox and his coaching staff (on both sides of the ball), because the Broncos are quickly becoming a tough matchup from a game plan perspective.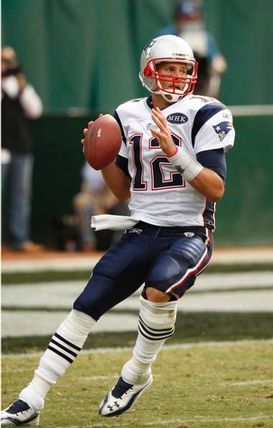 ICONBrady threw for 361-yards and exposed the Eagles' secondary on Sunday.
<p>
2. More issues for the Eagles:
Forget Xs and Os right now with Andy Reid's team, because after seeing them get whipped by Tom Brady (361-yards, 3 TDs) and the Patriots, its time to drop them out of the playoff discussion in the NFC. The secondary play was a major issue (again), DeSean Jackson was benched and this Eagles' squad didn't matchup on the line of scrimmage. Would a healthy Michael Vick have made a difference vs. the Patriots? I don't see it, because this team continues to under achieve and lacks overall execution—repeatedly. Did anyone expect Philly to be 4-7 after the Thanksgiving holiday?
3. Sanchez in the red zone: The Jets' QB displayed more of the same inconsistent play (17-35-180) that has plenty of people questioning his development as a pro QB. But when Sanchez needed to make a throw in the red zone (on a day where Rex Ryan's defense gave up some plays), he produced. Four TD passes, including the score to Santonio Holmes that led to a much needed win for this club. Sanchez escaped pressure, rolled to his right and that allowed Holmes to work back to his QB. And when a play breaks down inside of the 20-yard line, DBs start to panic—and lose their coverage. That was a big throw for the Jets.
4. Texans survive vs. Jags—but QB issues are real: You can win in the NFL when you play top-tier defense and run the ball with production, but you still need a QB tot make throws in crucial game situations. With backup QB Matt Leinart now possibly lost for the season, can rookie T.J. Yates be the "guy" for the Texans to get a AFC South title and make a run in January? With Wade Phillips No.1 ranked defense and Arian Foster, Houston is still a tough matchup down the stretch. But we have to see if Yates (or another veteran off the street) can make the plays to beat a team like Baltimore or New England on a playoff stage.
5. Bears' Hanie doesn't cut it vs. Raiders: I gave the QB a C- grade for his play out in Oakland and Bears fans should have some concern after the 25-20 loss to the Raiders. Hanie did throw for 254-yards, but look at the turnovers—because they killed this Bears' offense. Three INTs and some poor reads from the pocket. Can he improve? That's what you would hope from the perspective of Lovie Smith, Mike Martz and the Bears. However, Hanie needs to get the ball out quicker, take calculated risks in the passing game and understand his defense (and running game) are the key to a playoff push for the Bears. Time to get in the film room for the young QB and make the corrections.
CONTINUE TO PAGE 2 FOR MORE WEEK 12 NOTES