October 23, 2011 -
Matt Bowen
No question where Forte fits in Bears game plan
Watching the Bears beat the Bucs 24-18 today over in London, is there any reason to doubt Matt Forte's overall impact (and importance) to Mike Martz's offense? We will continue to see the Hi-Lo route concepts (crossers) of the Martz route tree and the bunch looks (with an occasional gadget play). However, when we break down this team offensively it is predicated on Forte's production. His final numbers: 25-carries, 145-yards and a TD.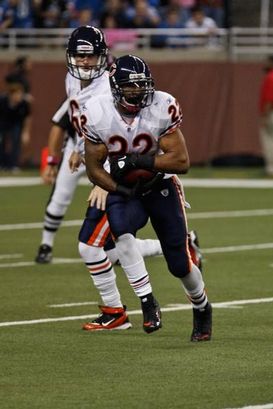 ICONForte rushed for 145-yards in the Bears win over the Bucs in London today.
Here are a couple of things I saw today…
- Press the edge of the defense. The Bears run the "Stretch G" scheme (pull the front side guard) out of their one-back looks, but with Martz, the center is also out on the edge. This is where Forte is at his best. Stretch the defense, pick a hole and get vertical up the field.
- Cut back player. This was big in Forte's 32-yard TD run when he made the cut in the open field, but look closer when he uses his lateral vision and works the defensive pursuit at the line of scrimmage. The TD run will show up on the highlights, but it is the cutback ability we consistently see in the one and two back runs (Counter OF) that led to the Bears' RB filling up the box score.
- Catching the ball out of the backfield. The Bears and Jay Cutler struggled setting up the screen game today, but there was a route late in the fourth quarter (led to Bears FG) that was all based on alignment. When Forte is in a "chowed' position (outside leg of the tackle) with two WRs in a reduced split (inside of the numbers), he is there for a reason. This is the same route scheme the Rams used back in the day with Marshall Faulk. Can call it the "Rail" scheme or just the quick "Dart" route, but it allows Forte a quick release vs. a LB in coverage. Explosive play waiting to happen.
-Watching this offense, it also makes me question Martz's play calling inside of the 10-yard line. This is where the Bears' OC wants to spread the field, use combination routes and try to create matchups. I understand there is a place for that in the game plan, but we should see the Bears ride Forte in these situations. A correction that needs to be made after watching the tape before Chicago heads to Philly for a Mondya night game after the bye week.
You think it is time to get back to the table and work out a deal with Forte in Chicago? All you need to do is turn on the game film to see his value.
Follow me on Twitter: MattBowen41