August 14, 2012 -
Matt Bowen
No surprise here with Jets installing the 'Wildcat' for Tebow
Fans—and the media—shouldn't expect to see the Jets roll out their multiple packages created for Tim Tebow during a training camp session. That's not what teams do in this league.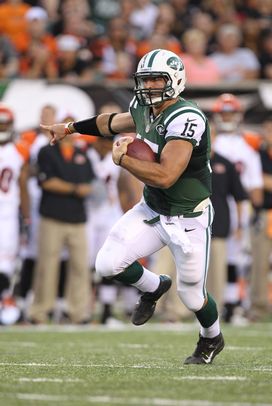 US PRESSWIREThe Jets are installing the "Wildcat" package for QB Tim Tebow.
Sure, they install their offense and defense during camp, but the "game plan" schemes are put together in the meeting room and then drilled during closed practices and walk-thru sessions. Gadget plays that usually don't show up on tape until the games count in the regular season.
And it's really no surprise to hear that Rex Ryan's club is installing the "Wildcat" offense for Tebow. There will be plenty of variations to the scheme (Zone Read, QB Power, maybe some Inverted Veer, play action, etc.) and I expect it to be utilized inside of the red zone, the start of a new series after a turnover ("sudden change") or based on game situation. You put a guy in the "Wildcat" that gives you the ability to throw the ball and it does give you some more options.
How often will we see it? That depends on the play of Mark Sanchez from my perspective. If the veteran QB can handle the offensive game plan, protects the ball and keeps his team out of adverse situations, then the "Wildcat" gets pushed down to the bottom of the call sheet.
However, this is what Tebow brings to the Jets from an Xs and Os perspective at this point of camp. Not counting his role on special teams (where I think he could be targeted), the QB will be used as a "gadget" guy in this offense. Give the defense a different look, plus force them to spend valuable practice and meeting time preparing for a scheme they don't see every Sunday.
Will it work, lead to production? That depends how creative offensive coordinator Tony Sparano can get on the chalkboard.
Follow me on Twitter: @MattBowen41