January 25, 2012 -
Matt Bowen
Notes from Mobile
Click here to check out the NFP's Draft Page.
Click here to see the new Get Sharp video: Senior Bowl prospect breakdowns
Let's take a look at my notes and observations from both practice sessions on Tuesday at the Senior Bowl. Here is what I am seeing on the field along with some talk from NFL scouts.
- There was a buzz after the South squad wrapped up practice yesterday afternoon because of the speed, tempo and hitting on the field. The LBs looked more athletic, DBs were competing in one-on-ones and inside run drill was a physical session. There was a noticeable difference between the two practice sessions on Tuesday.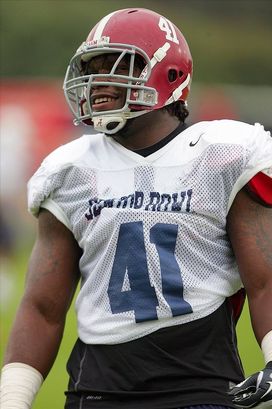 ICONAlabama's Courtney Upshaw was impressive in one-on-one pass rush on Tuesday at Senior Bowl practice.
- During one-on-one pass rush, both Alabama DE/ OLB Courtney Upshaw and UNC DE Quinton Coples stood out. With Upshaw, there is enormous power to his game but he also demonstrated the ability to use his hands (and multiple moves) to win. With Coples, we are looking at a legit edge rusher. Speed to turn the corner and athletic ability that isn't matched by anyone on the field for his size (6-6, 281).
- Michigan State QB Kirk Cousins stands out on the North roster because of this arm strength compared to Boise State's Kellen Moore and Wisconsin's Russell Wilson. And talking with scouts, his stock may start to rise.
- This isn't a strong WR class down here in Mobile, but what about Texas A&M's Jeff Fuller? The 6-4 WR did show some ability to separate from DBs, plus he can run the 3-step game and intermediate route tree. The question I have: will he be able to win vs. NFL DB aligned in a press-position?
- Loved seeing the DBs on the South squad get up to the line of scrimmage and play press-coverage. And the one CB that consistently competed was Dwight Bentley from Louisiana-Lafayette. Doesn't have ideal size (5-10, 176), but was physical with his initial punch and also drove downhill on the ball when playing from an off-man position. Keep an eye on him throughout the draft process.
- I asked an NFL scout yesterday to give me one name that continued to show up on the North roster and he told me Appalachian State WR Brian Quick. He has size (6-3, 222), length and body control.
- I talked about Notre Dame SS Harrison Smith on Monday, but another safety to watch on the North roster is George Iloka from Bosie St. He is talll (6-3) for a middle of the field safety, displayed some range and took good angles to the ball on the skinny post/seam route. But with any free safety, we have to talk about coverage skills at the NFL level. Can he walk down over a slot, handle the TE on the 7 (corner) route, etc.?
- Oklahoma State QB Brandon Weeden throws a good ball. This was one of the questions I had leading up to this week because of the offensive system Okie State, however Weeden looked comfortable in the pocket and displayed nice touch on the deep ball.
- A better session for Oklahoma CB Jamell Fleming. He played with more confidence, challenged routes and brought a physical approach to his game in one-on-ones. From my perspective, he is the top CB on the North roster.
- Iowa WR Marvin McNutt was solid in one-on-ones and you could tell he was there to compete. To read more about it, check out the breakdown from the NFP's Wes Bunting.
- LSU FS Brandon Taylor had the play of the day filling the alley and laying a clinic tape hit on RB Vick Ballard in the open field. Not surprising after watching the tackling technique from that LSU secondary all season.
Stay with the NFP all week for our Senior Bowl coverage from Mobile…
Follow me on Twitter: @MattBowen41