July 17, 2012 -
Matt Bowen
Nothing wrong with rewarding Forte and Rice
I like seeing both Matt Forte and Ray Rice being rewarded for their production with new deals. Just before the franchise tag deadline on Monday, the Bears and Ravens stepped up and took care of their own with some new money at the RB position.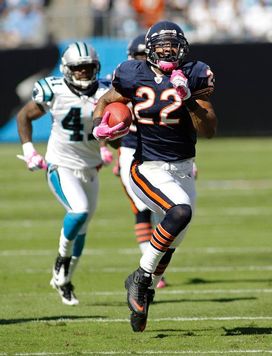 Both Matt Forte and Ray Rice produce consistently for their ball clubs.
That always sells from a player's perspective. Produce, show up consistently and eventually you will get paid.
And as I wrote in today' Chicago Tribune, these new deals also allow the Bears and Ravens to avoid the daily drama that comes with a training camp contract issue, hold-out, no-show, etc. No need for it when you can lock up a proven player and come to camp with a complete football team that is ready to work.
However, talking on Chicago sports radio Monday afternoon, the one negative is the amount of money spent on a position that many believe has lost it's value.
"It's a passing league now," is what I heard yesterday. Don't spend on backs and instead focus your money on the QB position and WRs/TEs that make plays down the field. Be a vertical offense. Put pressure on the secondary.
I get that. Invest in positions that have staying power and don't take on the violent collisions that we see with RBs. It's a strong argument.
But we also have to remember that this is a "production league."
And no matter how much you want to load up the game plan with spread looks and concepts that put stress on the top of the secondary, you still have to run the football to win and use your backs as targets in the route tree.
Think crucial game situations, red zone offense, play action, tempo, one-back runs vs. nickel fronts, etc. Those are all a major part of the game plan when you have a Pro Bowl talent in the backfield.
No question both clubs could have sat on the franchise tag and payed close to $8-million for Forte and Rice to carry the football in 2012. A move I was kind of expecting as the deadline approached.
But the way I see it, the Bears and Ravens invested in players that produce and are key factors in their game plans. That's smart football.
Follow me on Twitter: @MattBowen41