February 25, 2012 -
Matt Bowen
Now the real 'stress' begins at the NFL Combine
INDIANAPOLIS--Having been through the NFL Combine as a rookie prospect back in 2000, I understand the importance of the interviews, written tests and medical exams from the perspective of the league. A critical part of the evaluation process (or job interview) for the prospects here in Indianapolis this week.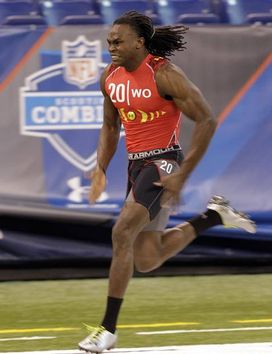 Falcons' WR Julio Jones running the 40-yard dash at the 2011 NFL Combine.
However, the real testing (and the real stress of the moment) started today with the actual Combine workouts on the field inside of Lucas Oil Stadium.
Run the 40, the short shuttle (20-yard shuttle), 3-cone, vertical jump, etc, etc. Workout in front of the entire NFL on your last day in town when you are mentally exhausted.
That's the test. Put your hand down on the line to run a 40-yard dash that will impact your draft grade in a setting that isn't comfortable. And that is the exact reason I am still a big supporter of the Combine workouts.
I expect these players to run and post their best times on their Pro Days back on campus. That's understandable when you can dress in your own locker room and complete a workout run by your strength coach.
Not here. Not even close. I want to see who can handle the atmosphere of the Combine when the stress level starts to rise the minute a prospect walks out onto the field for workouts.
There is no question game tape still "sells" when you are grading players leading up the draft, and I would also agree the Combine draws far too much hype based off of a time posted on a stopwatch.
But I still value what it brings to the draft process, because you want to see how these prospects respond when they have to run, jump and lift in an environment that doesn't cater to the player.
Follow me on Twitter: @MattBowen41