May 08, 2012 -
Matt Bowen
Now the real work starts with RGIII in Washington
The report that Robert Griffin III has been named the starter in Washington—without even seeing him take a snap in a live game situation—should have been expected. That's a reflection of the price it cost the Redskins to move up and take him off the board at No.2 overall.
I get it. We all should. There is no competition here. Forget about that idea.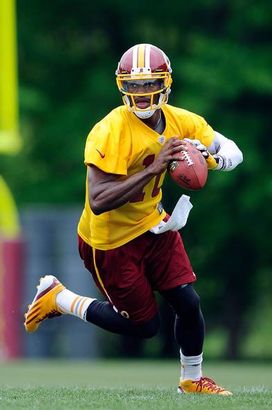 The Redskins need to open up the playbook with RGIII under center.
RGIII will be allowed to make mistakes (and learn from them) during OTAs, mini-camp and into training camp when he gets his first taste of NFL speed in pads. I'm excited to see what he can do. Tons of natural ability here that you don't often find at the QB position.
However, the challenge for Mike Shanahan and the entire offensive staff in Washington is developing his unique talent base and applying it to a system that caters to the QB.
During the draft process, I said Griffin was one of the prospects I would love to coach, and my opinion hasn't changed. But there must be an understanding that the techniques you have taught in the past may not apply here. From the drills during individual period and in game plan meetings, there has to be some give and take.
With Griffin, he can't be held back or "put in a box" as an NFL scout told me last month.
And if he makes a play when his technique isn't perfect, you just roll with it. Part of the deal (and the development) when you work with special talents in the NFL.
Getting back to the idea of the offensive system (or playbook in Washington), it has to change. Offensive coordinator Kyle Shanahan must adapt his play calling, get creative and expand the game plan. Use some read option, sprint action, spread the field, align him the shot gun, etc. Anything that will highlight what you have in the rookie.
Force opposing defenses to panic a bit because of the multiple looks you can show on Sundays with RGIII under center. Basically, open this thing up on offense.
And reps are vital to his success. Yes, the Redskins have to dedicate some practice time to the backups on the roster, but this has to be Griffin's gig. He needs as much time as possible with the starters in camp and throughout the preseason schedule.
I really believe this Redskins team will be fun to watch from an offensive perspective now that Griffin is in town. But it has to start now. Put the work in, prep the QB for the regular season and then let him go out and make plays.
That's why Washington gave up all of those draft picks in the first place.
Follow me on Twitter: @MattBowen41