July 17, 2010 -
Matt Bowen
Offensive upgrades should cater to Palmer
One team that continues to spark my interest and is often overlooked is the Cincinnati Bengals. In my opinion, Cincy has the most underrated defense in the entire league under Mike Zimmer and enough additions on offense that should provide multiple opportunities to put points on the board. A team that should be discussed as we start to break down the AFC North and look ahead to training camp.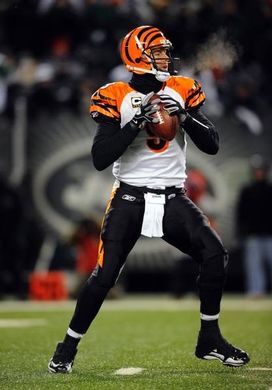 ICONWith new weapons in place, the Bengals should expect big numbers from Palmer.
But, it still comes back to QB Carson Palmer. I have always been high on Palmer and I still use him as a measuring stick when it comes to evaluating new talent at the position coming into the league each April through the draft. All the intangibles you want from an NFL QB: size, arm strength, pocket presence, etc. You make a model of what a "franchise-level QB" should look like, it is Palmer.
However, if we want to view Palmer in that top-tier category with the likes of Peyton Manning, Tom Brady, Drew Brees, Philip Rivers and Aaron Rodgers, the numbers — and the results — have to show on Sundays. Since 2005, Palmer's numbers have declined with each passing year. Yes, there have been injuries and some questionable front office moves made to this offense, but when we talk about 2010 there are no excuses.
Think of the additions that they made to this unit. Antonio Bryant at WR, rookie first-round TE Jermaine Gresham. Those players aren't added for window dressing or to look good getting off of the bus. Instead, they are added to expand your playbook, create matchup issues down the field and give WR Chad Ochocinco some room to finally work with. Add that to a running game that is on par with the top half of the league and we are now looking at an offense that has big-play capability. Creativity is the best way to put it. Spread the field, align in multiple formations and give Palmer options in the passing game.
The Bengals didn't have that last season and it was never more evident after Rex Ryan's Jets knocked them out of the postseason. Stagnant, predictable and very easy to game plan against. I wasn't impressed. In fact, after a very good regular season they looked like they didn't belong in the playoffs.
We have to understand that every offense in this league must have the ability to pick up yards in "chunks." Explosive plays (25-plus yards). It is hard to continually drive the length of the field to put the ball in the end zone. Instead, you need that ability to score quickly, flip the field and force defenses to scheme and prepare differently for you than they have in the past.
Can Cincy do that in 2010? On paper, yes. But, it still comes back to Palmer. No excuses. He has the weapons that every QB in this league wants when heading to the stadium on Sunday. Now, he just has to play like a QB with franchise-level talent.
Ready for fantasy football? Click here to purchase the Total Access Pass/ Draft Guide from the NFP.
Follow me on Twitter: MattBowen41