February 18, 2012 -
Matt Bowen
Offseason ACL rehab is no joke in the NFL
Last week I broke down the basic offseason plan for players in the NFL. The conditioning, weight training and speed work that goes into a veteran's winter routine as they prep for their return to OTAs and mini-camps.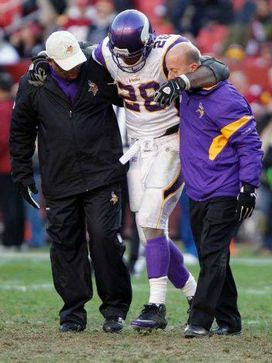 The rehab process for Adrian Peterson after his ACL injury will be a daily grind this offseason.
However, for a player rehabbing a knee such as the Vikings' Adrian Peterson, the script changes—dramatically.
Instead of working on your lateral conditioning or Olympic style power movements in the weight room, you find yourself lying on a training room table pushing through treatments to get the flexibility and strength back in your knee.
It is the ultimate grind (and test) for any veteran player.
The goal is to learn how to run, cut and play at an explosive level again (one that is required to produce in the NFL), but in reality, you start from scratch.
I went through this same process as a player with the Redskins spending the entire offseason in 2005 holed up in the training room at Redskins Park. Get up everyday, head to the training room and work through the same movements and treatments for months.
You will go through strengthening sessions as a player that bring extreme hope—only to see those same hopes crushed the following morning with soreness and pain in the knee.
A daily battle (both physically and mentally) that requires patience. And that's a tough sell for any NFL player that wants to get back on the field, test the knee out and start preparing for the next season.
According to recent reports, A.P. plans to start running soon, but let's not get ahead of ourselves here when it comes to offseason expectations with the NFL's best RB. Because "running" and playing at the elite level we are accustomed to seeing with A.P are two different things.
There will be days when Peterson has to be held back by the training staff and also those days where the knee just doesn't respond to treatment. Again, it is all a part of this rehab process that can't be judged by one day or even one week.
The knee itself is fixed and structurally strong. There is no question about that when you wake up from surgery. But that grind is the obstacle that stands in the way for any player that blows out a knee during the regular season.
It is too early to speculate on when we will see Peterson on the field in the 2012 season, but to get there, he has to push through the offseason first--and it isn't easy.
Follow me on Twitter: @MattBowen41