September 11, 2011 -
Matt Bowen
OK, I was impressed with Rex and the 'Skins today
Let's take a quick look at the Redskins 28-14 win over the Giants today at Fed Ex, because I came away from this game impressed with Mike Shanahan's team…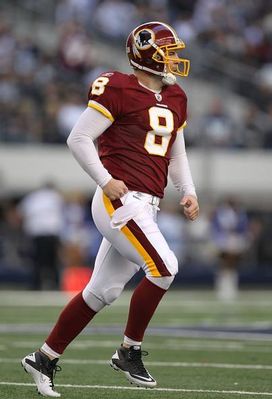 Grossman threw for 305-yards and 2 TDs in the Redskins win over the Giants.
- Have to start with Rex Grossman because he outplayed Eli Manning. Took some deep shots down the field, used the TE position and produced in the red zone. The two TD throws? Routes you have to complete inside of the 10-yard line: the slant and the fade. Look at these overall numbers for the 'Skins QB: 21-34-305-2TDs. For a guy that wasn't expected to win a job in camp, not a bad day in a divisional game.
- This defense is unique under coordinator Jim Haslett. Reminds me of Gregg Williams' scheme in New Orleans due to the amount of pre-snap looks and players that can drop into throwing lanes. The 'Skins will play some coverage (Cover 2), but at the core of this defense is pressure—and disguise. Put this up on the chalkboard and you will be amazed at the amount of multiple pressure packages they have. Just wait till they get LaRon Landry back on the field.
- The run game. Tim Hightower didn't have a huge stat line (72-yards,1 TD) but he carried the ball 25 times. That's a big number when we talk about touches and a dedication to win in the NFC East by running the football. We know what you get with Shanahan: the inside and outside zone, plus some downhill power schemes (Lead Strong, Power O). Redskins' fans should love seeing this and I would be surprised if it doesn't continue.
- Big plays on defense. You will see the Ryan Kerrigan INT and TD on the highlights. It was a clinic tape on defeating the cut block and getting your hands up at the line of scrimmage. But don't forget about the third (and fourth) down stops by Haslett's unit. Held the Giants to 1 of 10 on third downs. That wins in the NFL.
Check back to the NFP tomorrow morning for my Week 1 NFL notes…
Follow me on Twitter: MattBowen41