August 12, 2012 -
Matt Bowen
'OK' rookie, let's see you do it again
We are all guilty of rushing to judgment on rookies that produce over the first weekend of the NFL preseason schedule. Maybe it is a QB throwing the skinny post vs. off-man coverage, a DE turning the corner on a speed rush, a CB breaking down hill and making a play on the ball, etc., etc.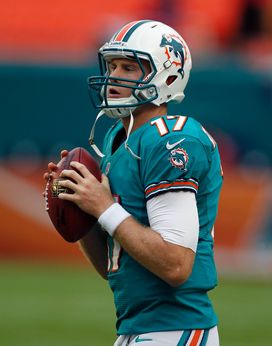 US PRESSWIREMiami Dolphins QB Ryan Tannehill played some prodcutive football in his first game as a pro.
Look at Dolphins QB Ryan Tannehill, Jets DE Quinton Coples or Bears WR Alshon Jeffery. They all did some nice things on the field this weekend. Hey, it happens every August in this league. A rookie that plays at a higher level than the scouting report said he would.
That's a beautiful thing—but we need to see them do it again.
I like preseason matchups because they are essentially one-on-one drills in game situations. The playbook? A small scale compared to what we will see in September when the regular season kicks off. In these games, coaches want to see rookies play ball. That's it. Read your keys and use the techniques that are taught over the first two weeks of camp.
Stay simple, basic with the call sheet. No game plans, scout team looks or true film study in August. Nope. This is about evaluating players over schemes.
However, consistent play (or production) is still the top seller in this league. And rookies that show up in their first taste of pro ball are now expected to repeat that performance.
The next step? Get on that game film, study your mistakes and make the corrections. That's how you get better. That's how you really develop. Because now these rooks are expected to improve, raise the bar and look even more comfortable the second time around.
Remember, this is a process, a journey of sorts for rookies throughout the preseason. And there will be more names come next Sunday after the second round of preseason games get underway. Players that change our initial opinions for a moment.
But it still comes back to consistency in the NFL. Tannehill, Coples, Jeffery and others showed us they can play a little ball vs. pro competition. Now let's see what they can do the next time they suit up.
Follow me on Twitter: @MattBowen41