January 09, 2013 -
Matt Bowen
Packers' All-22: The 'Dagger' route
Click here for the entire Inside the Playbook series.
During the Packers' NFC Wild Card win on Saturday night, Aaron Rodgers and the Green Bay offense executed the "Dagger" route during the 2-Minute drill. A seam-dig (square-in) combo that is designed to target Cover 2 (or Cover 3) with the No.1 WR working back between the numbers and the hash. And to give you a better idea of how the route scheme plays out vs. a 2-Deep shell, let's go to the tape and take a look at the All-22 cut-ups of Rodgers' pass to Jordy Nelson.
Vikings vs. Packers
Personnel: Posse (3WR-1TE-1RB)
Formation: Doubles Slot Exchange
Route Concept: Dagger
Defensive Scheme: Nickel Cover 2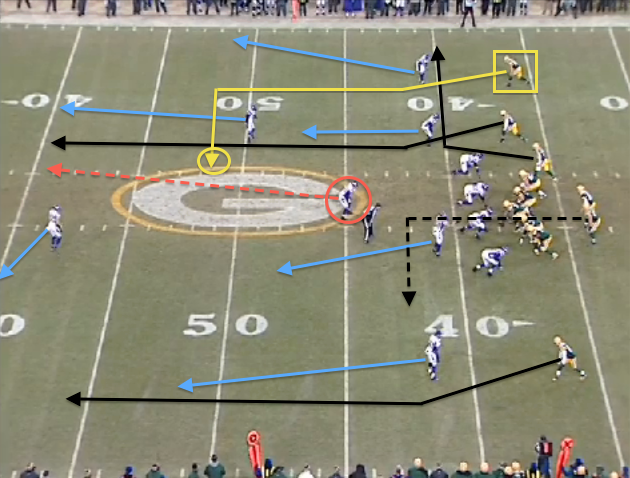 - The Vikings are showing a single-high defense with FS Harrison Smith aligned as a deep 1/3 defender, but looking at the depth of the Mike Backer (and the press-alignment of the CBs), Rodgers can identify Cover 2. Both safeties will roll to their deep half landmarks (top of the numbers) at the snap and read the release of No.1.
- The idea is to clear out the vertical seam defender (Mike Backer) and target the deep middle of the field with an inside breaking route (similar to the "Sucker" concept I broke down in the Chicago Tribune). The Mike will open his hips to the passing strength (closed side of the formation in this situation) and carry the inside vertical (WR Greg Jennings). And with the LB now removed, Rodgers has a two-level read: Nelson on the deep inside cut and TE Jermichael Finley in the flat.
- A pre-snap key to keep in mind...look at Jennings' alignment (exchange: No.2 on the ball). This is done so the No.2 receiver can get up the field before No.1 breaks back inside of the numbers.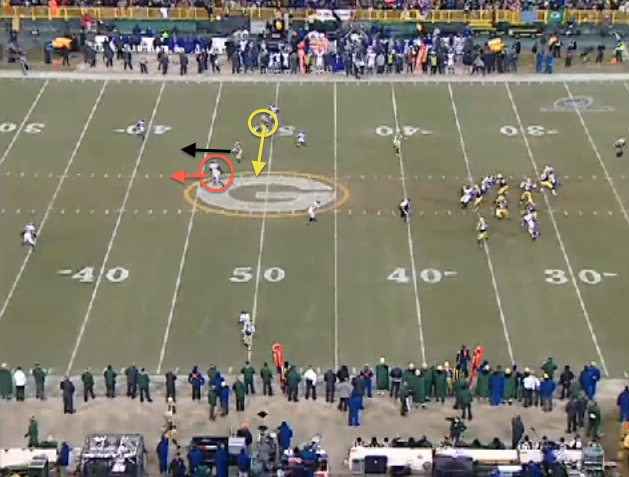 -This is a good view of the route on Nelson's break. With the Mike carrying Jennings on the seam, Rodgers can read the drop of the Nickel and throw to an uncovered area on the field. Even with the Nickel gaining depth, we have to remember that he is playing with his back to Nelson.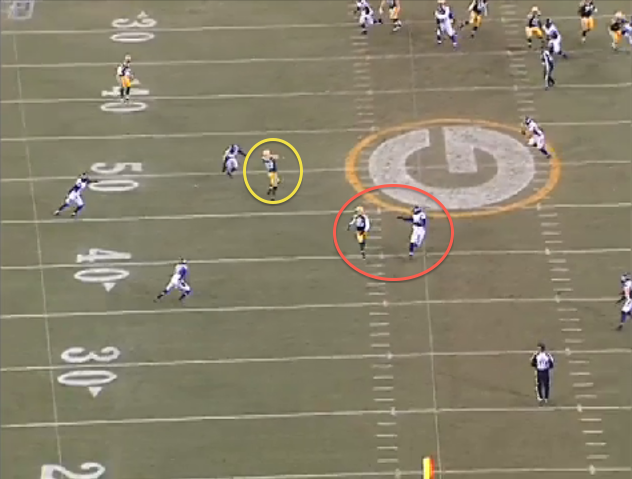 End zone angle of the catch. Look at the hole in the zone coverage. The SS will drive from the deep half, but he has to play with enough depth to overlap the seam route. This is exactly how the "Dagger" should play out vs. Cover 2 if you execute the scheme.