January 17, 2011 -
Matt Bowen
Packers-Bears: five early questions
Click here to read my game notes from the weekend playoff action.
Let's get the Packers-Bears talk started here at the NFP. Less than a week to the NFC Championship game at Soldier Field—and five early questions to ask. Matchups, schemes, X's and O's, etc.
1. How much pressure will we see from Chicago?
You talk Bears' defense and the discussion usually leads to the Cover 2 scheme. However, going back to the final regular season game at Lambeau—and what we saw Sunday in the win over Seattle—this Bears' unit will bring both zone and man pressure. In their zone blitz concepts, Chicago will rush five and drop six into coverage (think 3-deep). Designed schemes to cause confusion in the protection. Is it a risk to pressure Aaron Rodgers? Without a doubt, but you can't sit in 2-deep the entire afternoon. Curious to see if Lovie Smith carries a game plan with more pressure than usual.
2. Can James Starks produce against the Bears' front seven?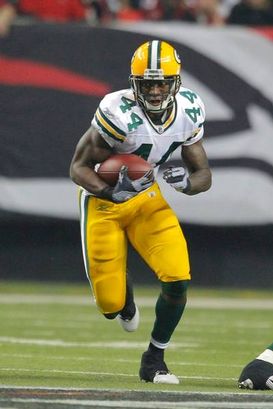 ICONWill Starks find running room vs. the Chicago defense on Sunday?
Rookie RB James Starks has been an upgrade to this Green Bay offense. Quick first step, runs with power and has some shake to his game that will allow him to get to the second level of the defense. But, can he do this vs. the Bears? Chicago wants to play the run with a seven-man front. We know that, but they will also walk the strong safety down in their Cover 1 and Cover 3 schemes, as well as bring the free safety down weak in Under 10 (think Cover 1 with opposite safety rotation). The key however, is making the Packers a one-dimensional team. Take the run away and force Rodgers to make all of the plays.
3. Are the Bears sound enough in their protection schemes?
I would welcome Dom Capers' job this week—because there is a lot you can do vs. the Bears' O-Line. I have to give Chicago credit for the way they protected QB Jay Cutler on Sunday, but go back and watch the tape from the Week 17 Green Bay win. Pressure and multiple players getting home to the QB. The Bears will have to make those corrections and expect some new packages from Capers this week. Very interested to see how Charles Woodson is used as an edge rusher on Sunday.
4. Will Green Bay kick to Hester?
Took one back in the early Monday night win for the Bears and we all know how crucial field position is going to be in a championship game. If I am Mike McCarthy I have no issue sacrificing ten yards by kicking the ball out of bounds this Sunday, because giving up a score (or setting up the Bears' offense with a short field) in the return game could be the difference when the fourth quarter rolls around. Big week for Packers' punter Tim Masthay—because one "miss-hit" and Hester could be up the sidelines. Don't put this game on the Packers' coverage units—that is the wrong call.
5. Will Tramon Williams continue to make big plays?
I will write more about Williams during the week, but how big has he been in the two Packer playoff wins? And he will see some opportunities vs. Cutler and this Bears' offense. Drive underneath the dig route, break on the slant and bait the Chicago QB into throwing the ball down the sidelines. Green Bay needs that same playoff level production from Williams when he is matched up vs. Hester and Johnny Knox. He is a fun player to watch—because he plays with good technique.
Follow me on Twitter: MattBowen41
Want to work in the NFL? Click here to sign up for the NFP's Chalk Talk session at the Combine in Indianapolis on February 25th.