July 29, 2011 -
Matt Bowen
Panthers doing work to build offense for Newton
I don't know how much we will see rookie QB Cam Newton early in the season for the Panthers without any offseason coaching and film work. It is going to be tough to get him acclimated to the pro game during the month of August alone.
But for the future of the No.1 overall pick in this Carolina offense, the team is doing some serious work to give him the weapons to produce at the NFL level.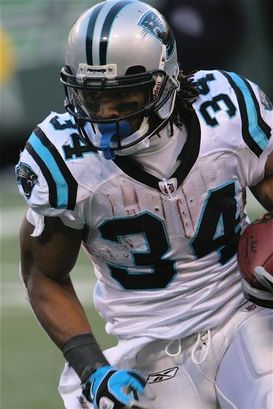 ICONCarolina re-signed RB DeAngelo Williams for $21 million in guaranteed money.
It started earlier in the offseason when the Panthers added TE Jeremy Shockey, and during this week we have seen more impact players retained and added to the skill positions. Take a look…
- Carolina re-signed RB DeAngelo Williams to a deal that will pay him $21-million in guaranteed cash. There was some interest from the Dolphins and the Broncos., but keeping Williams—a productive back in his prime—is crucial to the development of any young QB.
- WR Steve Smith? Throughout the lockout there were rumors of teams such as the Ravens, Chargers and even the Bears making an offer to get the veteran out of Carolina. But according to reports, Smith is back in the mix. A No.1 receiver—with down the field speed—outside of the numbers. Someone that will go make a play for the QB.
- Just last night, Carolina worked out a deal, sending a third-round pick to Chicago for TE Greg Olsen. The former Bear will show up in the red zone and when working with Mike Martz, displayed the ability to align removed from the core of the formation as a backside X receiver.
This week, Carolina has proven that they are willing to spend money (on both sides of the ball) and make investments to build a team under new head coach Ron Rivera. Panthers fans should be excited.
As for Newton? I think highly of the rookie and do believe he can be a unique talent in this league. A superior athlete. Now it comes down to coaching. But when he is ready, this offense is shaping up to give him the talent to succeed and play good football.
Follow me on Twitter: MattBowen41