August 27, 2012 -
Matt Bowen
Patriots set the 'blueprint' at the TE position
Whenever I look at the Patriots and talk game plans or playbooks the discussion usually shifts to the TE position. Understandable when breaking down the impact both Rob Gronkowski and Aaron Hernandez have on Sundays.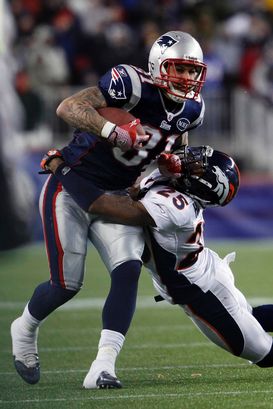 US PRESSWIREAccording to ESPN, the Patriots will extend the contract of TE Aaron Hernandez.
That's why you ensure these two are a part of the roster for years to come. The Patriots extended the contract of Gronkowski earlier this offseason and are about to do the same with Hernandez as ESPN reported this morning.
The Patriots have what every team in this league wants at the position: two tights ends that create serious matchup issues at all levels of the field and become prime targets inside of the red zone.
With Gronkowski, we are looking at the "Y" TE that can block in the run game, work the inside vertical seam, dig, etc. and win based on leverage inside the 20-yard line. And from the perspective of a safety in coverage, it's tough to play the ball on Gronkowski when he breaks back inside of the numbers. Your technique better be near perfect to even have a chance.
Breaking down Hernandez, we can call him the "move guy" in the Patriots' system. Align him in the core of the formation, removed as a wide receiver, backside of 3x1, outside of the numbers in a 2x2 set, etc. Think of the "Pin" concept (Option-Dig combo) we consistently see from New England or a an underneath "whip" option where Hernandez can play off a defender's initial leverage. He gives you multiple options as a play caller.
We all know QB Tom Brady has other targets on the field with Wes Welker and I'm as curious as anyone to see how new WR Brandon Lloyd attacks opposing secondaries this season. But when it comes to core of this offense (one that is constantly changing personnel and alignments throughout the game), Gronkowski and Hernandez would cause me to lose the most sleep as an opposing defensive coordinator.
The Patriots did this right. Two players they drafted and developed under their coaching.
Follow me on Twitter: @MattBowen41