May 15, 2012 -
Matt Bowen
Patriots still have work to do with Welker
Wes Welker signed his franchise tender today and eliminated plenty of drama that would have surrounded the WR and the Patriots throughout the offseason. That's the drill during contract talks in this league.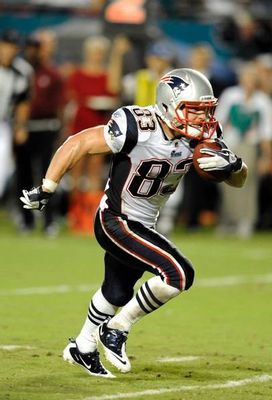 ICONThe Patriots still need to reward Welker for his production with a long-term deal.
Welker will now get $9.5 million to catch balls from Tom Brady this season. That's good money—and its guaranteed.
And let's be honest here: I would take that deal and so would you.
The WR can start working out at the facility, go through OTAs, mini-camp, etc. That's fine and it does reflect the professionalism of the veteran.
However, this is still on the Patriots to take care of their WR when we look at this from a player's perspective. Guys in this league want to be rewarded for their production.
Translation: long-terms contracts with some security.
I wrote about this in the Chicago Tribune while discussing Matt Forte and his contract with the Bears. The veteran RB is still absent from Halas Hall and hasn't signed his franchise tender. And we can't forget about QB Drew Brees in New Orleans. The face of the franchise is waiting for the club to offer him that new money.
I don't blame them. If you are a veteran player with proven production, get as much money as you can before the league tells you to get lost. The rest of your teammates will understand that this is a business and the offseason is the time to talk money.
Welker's production is out there for everyone to see. And when you break down what the Patriots do offensively, he is a key part to their success as a franchise. Maybe he does have to play out the year on the franchise tender. Like I said above, that is good money.
But the way I see it, the Patriots need to get to work on a new contract, new guarantees and that "security" veteran players look for.
Welker has earned it. Its time for the Patriots to take care of their own.
Follow me on Twitter: @MattBowen41