December 11, 2012 -
Matt Bowen
Patriots-Texans: Breaking down McCourty's INT
Click here for the entire Inside the Playbook series.
Tom Brady and the Patriots whipped the Texans 42-14 last night. That's something we can all agree on. However, go back to early in the game when the Texans had the ball in the "strike zone" (20-35 yard line). That's an opportunity right there for Matt Schaub and the Houston offense to execute, finish a drive and put points on the board.
What happened? Schaub throws a pick in the end zone and Houston doesn't recover. Let's take a look at the play, focus on Patriots' FS Devin McCourty and breakdown the "Pin" route (post-in) vs. a single high safety defense.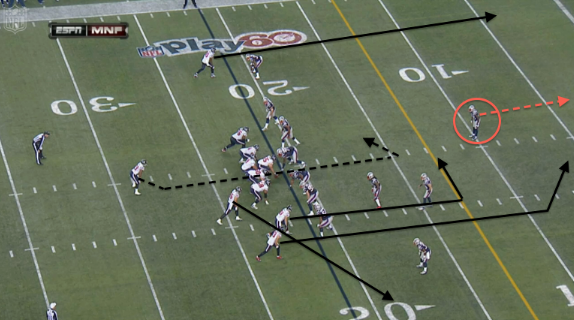 - Ace personnel (2WR-2TE-1RB) on the field for the Texans with a bunch to the closed (strong) side of the formation. Houston is running the "Pin" concept with Kevin Walter on the Post and Andre Johnson working up the field on the 9 (fade) route to the open (weak) side.
- Single high safety technique from McCourty. Split the formation based on the pre-snap alignment, gain depth in your drop, stay square and read the QB. McCourty has to play with enough depth to overlap the 9 route to the open side and drive to the post. Remember, always give yourself enough room to create angles as a FS in Cover 1, Cover 3, Zone Pressure, etc.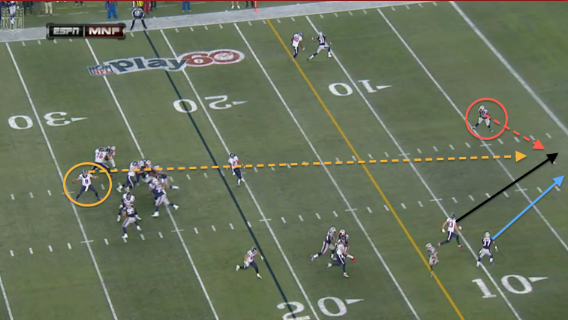 - As you can see here, McCourty opens his hips to the closed side of the formation once he has established enough depth in the middle of the field. That's the proper technique when the QB opens his shoulders and takes you to the route. Put yourself in a position to plant, drive and take a clean angle to the ball.
- On the telecast, Coach Gruden focused on Foster in the middle of the field. What we are looking at here is a "check release" from the Houston RB. Foster scans inside for pressure and then releases as a check down option. Is he open? Sure he is. The Patriots' LB "adds" to the front (rush to coverage) and Foster gets out of the backfield. However, Schaub has already declared to the post. That's where the ball is going.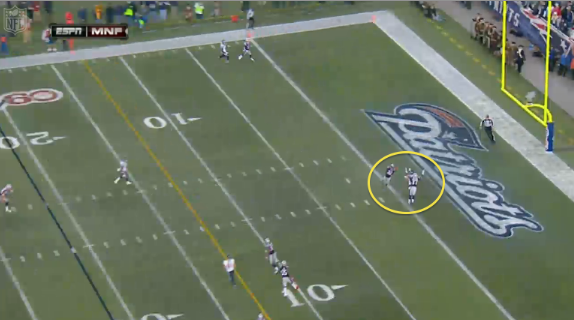 - To be honest, this is nothing more than a DB drill in training camp for McCourty. Backpedal, open and drive on the throw. If the QB isn't going to look backside or attempt to hold you in the middle of the field, take advantage of the opportunity and go finish the play. Discipline and range. That's what I saw from the Patriots' FS.
Follow me on Twitter: @MattBowen41