June 09, 2012 -
Matt Bowen
Playbook breakdown: 'Hi-Lo Triple-In Flood'
Click here for the entire Inside the Playbook series.
The "Hi-Lo" package is a mainstay in west coast offensive systems (think Andy Reid and the Eagles). However, if you watch enough game tape, the "Hi-Lo" concepts (Hi-Lo Crosser, Hi-Lo Opposite) show up in every NFL playbook. A basic rule to follow from a secondary perspective: a stack or bunch look (inside of the numbers) is an alert to the Hi-Lo.
Today, let's take a look at "Hi-Lo Triple-In Flood" up on the chalkboard and talk some Xs and Os.
Personnel: Regular (2 WR-2 TE-1 RB)
Formation: Pro Strong I (motion to bunch)
Route: Hi-Lo Triple-In Flood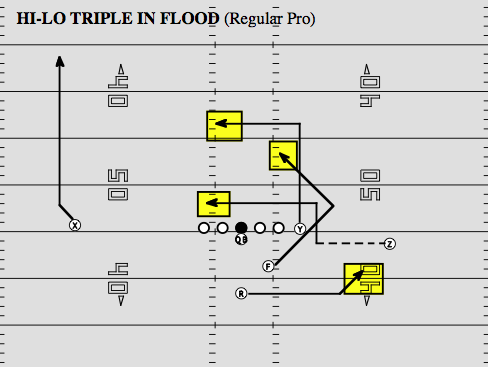 Motion to Bunch: During my career vs. the Eagles, any short, "divide motion" (motion to the core of the formation) was an automatic alert to a Hi-Lo concept. Here, I put the Z in motion to create a pre-snap bunch (Z-Y-F).
Route breakdown: Start with the base of the Hi-Lo concept. The TE (Y) to the closed (strong) side of the formation will release vertically up the field and break on the 12-yard dig route (Hi) with the No.1 WR (Z) coming underneath on the crossing route (Lo). The FB (F) will run the "angle route" with the RB (R) releasing on the swing concept (Flood). Three inside breaking routes with the RB on the swing route to create "four strong."
F Angle: From my experience playing against Philly, the FB can be the primary target. You can play techniques to eliminate the base Hi-Lo (think "Box" technique). However, the RB on the swing route will widen underneath defenders and that opens up an easy throwing lane to target the FB.
Red Zone: This is where you should run this concept. Yes, throwing lanes will shrink inside of the 10-yard line. But look at Cover 2 or Cover 4 in this situation. By sending "four strong," these zone coverages will break down and receivers can sit down in open holes. And vs. man-coverage (Cover 1), you will get defenders playing inside breaking routes from an outside leverage position. Tough concept to limit down in the red zone.
Follow me on Twitter: @MattBowen41