July 18, 2012 -
Matt Bowen
Playbook: Drawing up a 'Cover 0' blitz scheme
Click here for the entire Inside the Playbook series.
Click here for my notes on playing Cover 0 technique.
Recently, I have been looking at Cover 0 blitz schemes (or zero-man) in my playbook breakdowns at the NFP. Man-coverage principles (inside shade alignment) without the safety help in the middle of the field. Force the ball to come out (six or seven-man pressure), drive downhill in the secondary and tackle in the open field.
But what does a Cover 0 blitz scheme look like in a defensive game plan? Today, let's breakdown "Under Strike Closed 0" (out of a 4-3 front) vs. Regular personnel (2WR-1TE-2RB) and talk pressure football.
Offensive Personnel: Regular (2WR-1TE-2RB)
Formation: Pro (Strong I)
Defensive Scheme: Under Strike Closed 0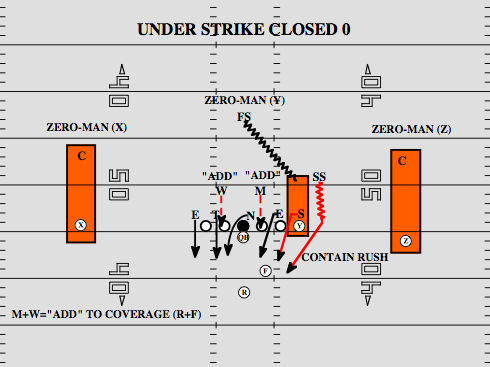 "UNDER (front) STRIKE (S=SS and Sam) CLOSED (blitz to closed side) ZERO (zero-man)"
Blitz-front: This is a 6-Man pressure scheme (before the snap). The SS will show Cover 1 (or "3 Buzz") and walk down to an edge blitz alignment (contain rush). The Sam Backer aligns over the TE ("Under" front) and slants hard to the closed side "C" gap. With the Nose (N) scooping to the open side "A" gap, this is a balanced blitz-front.
Zero-man: With the SS and Sam backer (S) in the blitz-front (and the FS rotating over to play the TE), there is no deep middle of the field help in this pressure scheme. Both corners will play off at a depth of 7-8 yards, align on the inside shoulder of the WR and drive on any inside breaking route with a flat-foot read (the "Out" route is on the defense). Use the sidelines as your help and take away any route that breaks inside of the numbers.
Mike and Will Backers: Both LBs in this scheme are in coverage (R and F). The Mike will take the first back closed (strong) with the Will taking the first back open (weak). However, as you can see in the diagram, I have both backers "adding" to the blitz front (also called a "Green Dog"). If the RBs stay in on protection, the LBs will blitz to their coverage—creating an 8-Man pressure defense.
How do you beat this blitz?
Check to 7-Man protection (both RBs stay in protection scheme) and throw the 3-step game (slant or hitch). Forget about the 9 (fade) route vs. off-man coverage and only throw the "Out" route if the WR adjusts his split to the top of the numbers (create room). Get the ball out and force the CBs (or FS) to tackle in the open field.
Follow me on Twitter: @MattBowen41