July 09, 2012 -
Matt Bowen
Playbook: Drawing up a weak side CB blitz
Click here for the entire Inside the Playbook series.
Click here for a breakdown of "Ruby Gut Fire Zone"
As I continue to run through the Ruby front (3DL-2LB-6DB) in my defensive notebooks, let's take some time today and talk about sending CB pressure (or CB "Cat"). A smart way to bring edge pressure, get a free runner at the QB and set some traps in the secondary to make a play on the ball.
Defensive Personnel: Ruby (3DL-2LB-6DB)
Defensive Scheme: Weak Cat "Gold"
Offensive Personnel: Posse (3WR-1TE-1RB)
Formation: Doubles
Route: Option/9 (Fade)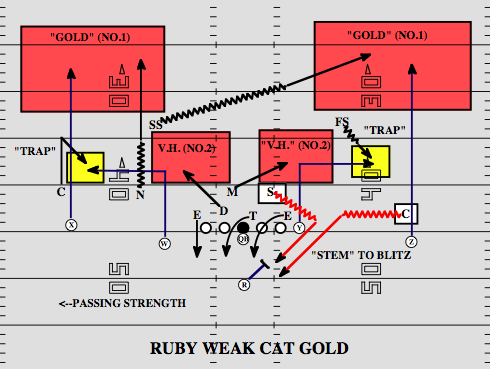 Blitz scheme: Similar to a fire zone concept, I am only sending five-man pressure here. Because of that, your pre-snap look is key to causing some confusion in the protection count. I have both the Dime (D) and the Mike (M) showing to the open side of the formation with the safeties in a Cover 2 shell. Before the snap, the Sam (S) will stem to an edge rush position with the closed side CB moving to a blitz alignment. With the DE "scooping" to draw the OT inside, you should create a 2-on-1 vs. the RB in "scan" protection.
"Gold" technique: When I played for defensive coordinator Norm Parker at Iowa, we called this a "Kathy" technique. Regardless of the terminology, the two "soft squat" players (CB and FS) are reading No.1 to No.2. Carry No.1 vertical ("trail-man" technique) and read inside to No.2. When you see an outside break (option route on the chalkboard), drop No.1 and drive on the throw. Essentially, you are setting a "trap" for the offense. At the top of the coverage, think Cover 2 responsibilities (deep-half) with both the SS and the Nickel widening over the top of No.1. They have to play the 9 route in this situation.
Vertical Hook defenders: Have to take away the possibility of the inside seam routes. The Mike and Dime will run with any No.2 vertical. Again, show in the blitz front (force the center to count you in protection) and leave at the snap playing from an inside position (inside hip) on the No.2 receivers (W and Y).
Timing is everything: NFL defenses will use film study throughout the week to get a feel for how long it takes the QB to get the snap once he put his hands under center or lifts his leg when he is aligned in the gun. Based off that number, the CB and the Sam will begin to stem to their alignment. Leave too early (allowing the QB to check out) and you will have to fall back in to Cover 2 or another base scheme.
Follow me on Twitter: @MattBowen41