October 04, 2012 -
Matt Bowen
Playbook: Eagles' 'Box' technique vs. Eli, Giants
Click here for the entire Inside the Playbook series.
Click here for my chalkboard breakdown of the base "Box" technique.
During the Eagles 19-17 win over the Giants on Sunday night, CB Dominique Rodgers-Cromartie intercepted QB Eli Manning in the end zone vs. the 7 (corner) route out of a bunch alignment. Today, let's use the "All-22" film to breakdown the "Box" technique (4-on-3) the Eagles used to bracket the TE and force a key turnover.
Giants vs. Eagles
Personnel: Ace (2WR-2TE-1RB)
Formation: Bunch
Route Concept: Spot
Defensive Scheme: Box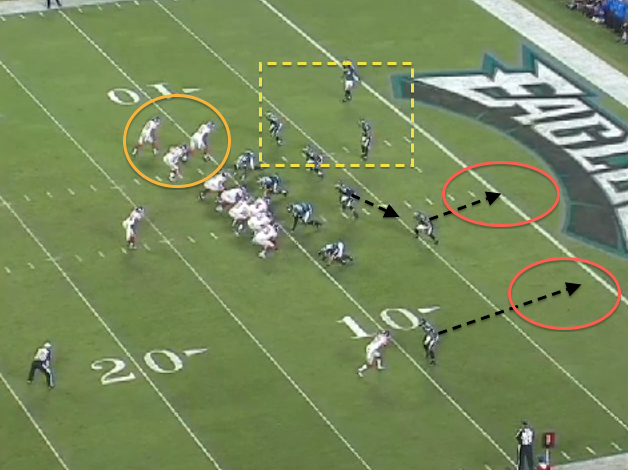 -One of the top techniques vs. a bunch is the "Box" technique: a 4-on-3 coverage. The top two defenders in the "box" will play the "2nd Out" and "2nd In" with the bottom two defenders matching to the "1st Out" and "1st In." And this is what I'm seeing on the film from the Eagles to the closed (strong) side of the formation.
- To the open (weak) side of the formation, we are looking at "quarters" technique from the Eagles. The FS will key "High-Hat" (pass) vs. "Low-Hat" (run) by reading the LT and then look to help the CB on No.1 (X WR). The safety will take away any inside cut (slant, dig, post) with the corner playing outside leverage.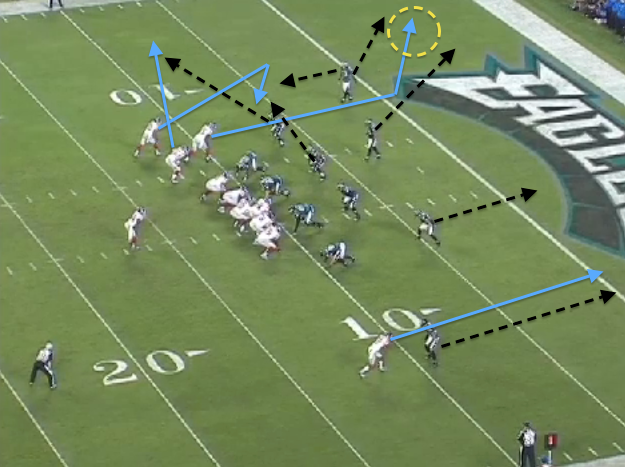 - This is a basic concept from the Giants: the "Spot" route. A 7-Curl-Flat combo you will see on Sundays out of multiple personnel groupings and with some added window dressing. The "Y" TE, Martellus Bennett, will run the 7 cut (corner route) with WR Victor Cruz on the curl and the "U" TE bursting to the flat.
- Think of the "Box" technique as a matchup zone in basketball. As you can see on the film cut-up, the first outside defender will play the flat with the first inside defender (LB DeMeco Ryans) matching to Cruz in the curl. That leaves Rodgers-Cromartie in a position to read the QB and drive downhill on the curl or create a 2-on-1 with the SS vs. Bennett.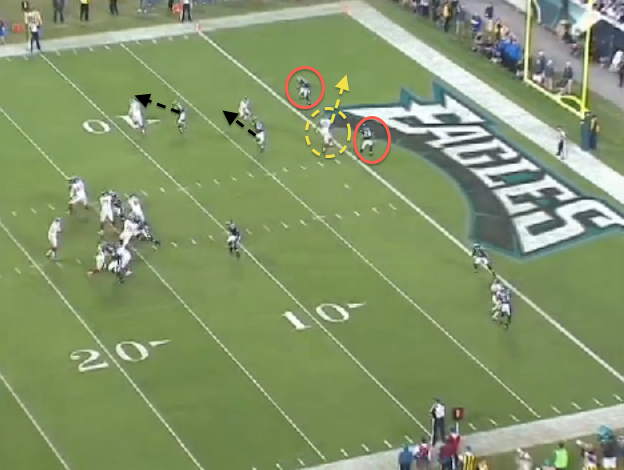 - Rodgers-Cromartie and the SS essentially have a "bracket" look vs. the Giants' TE at the top of the route stem. Because of the "box" technique, they can play the 8 (post) or the 7 (corner). With Rodgers-Cromartie matching the first outside break, he can let the 7 route come to him.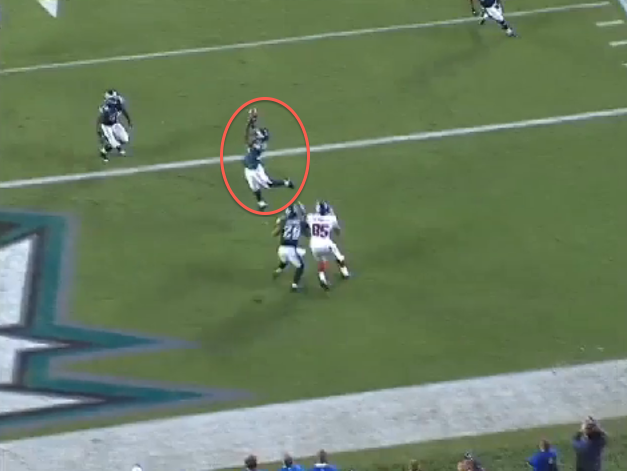 - Off the end zone angle this was an easy pick for Rodgers-Cromartie and a very questionable read from Manning. Climb the ladder and high point the ball.
How do you beat the "box" technique?
Out in the field, run the OVS (Outside Vertical Stretch). A 9 (fade)-7-Flat combo. Remove the top outside defender with the 9 route and get the top inside defender matched up vs. the 7 cut (outside breaking route) playing with inside leverage.
Follow me on Twitter: @MattBowen41