August 21, 2012 -
Matt Bowen
Playbook: Eagles' red zone route concepts
Click here for the entire Inside the Playbook series.
Let's go back to last night's Eagles-Patriots matchup and take a look at the Eagles' playbook inside of the red zone. Two west coast route concepts that rookie QB Nick Foles threw for TDs vs. the New England defense. Check out the Xs and Os on the chalkboard and then we will get into some coaching points to break them down.
1. Spot (Sprint)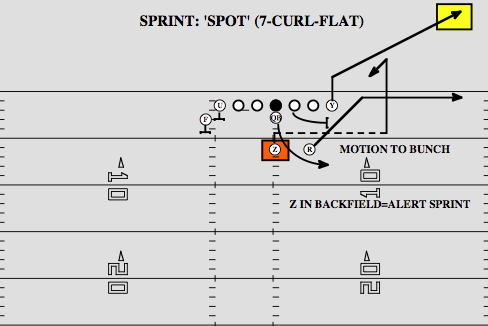 - You will see the "Spot" route this season out of multiple personnel groupings and alignments. Think crucial game situations with the 7 (corner)-Curl-Flat combo.
- This is an Andy Reid classic. Bring Heavy Personnel (1WR-3TE-1RB) on the field (Eagles substitute F for third TE), align the WR in the backfield and use pre-snap motion to create a bunch look. The same concept I saw during my career with WR Terrell Owens playing the "Z" receiver.
- Force the defense to widen (WR motion) and use the Spot route attack 3-levels of the coverage.
- From my experience, the Z becomes the primary target vs. zone-based teams on the goal line. With the front side guard pulling to seal the edge of the defense and the QB using sprint action to get outside of the pocket, the WR can find space to sit down on the Curl route. Last night, Foles targeted the TE (Y) on the 7 cut for the score on a nice throw to the corner of the end zone.
2. Hi-Lo Triple-In (Empty alignment)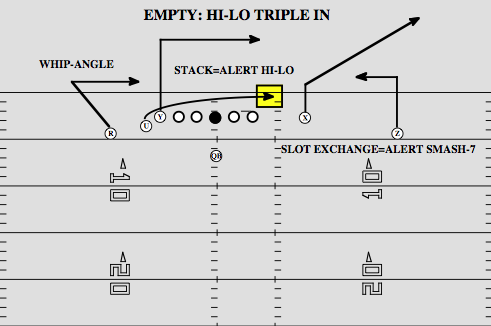 - If you are going to game plan for the Eagles, get ready to play multiple Hi-Lo concepts. Remember, in the west coast system, the ball is going to be thrown between the numbers.
- Ace personnel (2WR-2TE-1RB) on the field in an empty alignment (Formation: Empty Unit Wing Slot Exchange).
- Start to the open (weak) side of the formation. Any time you see a "Slot Exchange" look in the red zone (X on the ball), play for the Smash-7. That's pretty standard around the league.
- To the closed (strong) side of the formation, two receivers close together (Stack or Wing alignment) is an alert for the Hi-Lo concept vs. the Eagles. With RB LeSean McCoy removed from the formation as a receiver running the "Whip" route, Philly has now created the "Hi-Lo Triple-in." Three inside breaking concepts that gives Foles options in the red zone.
Follow me on Twitter: @MattBowen41